A brother's thanks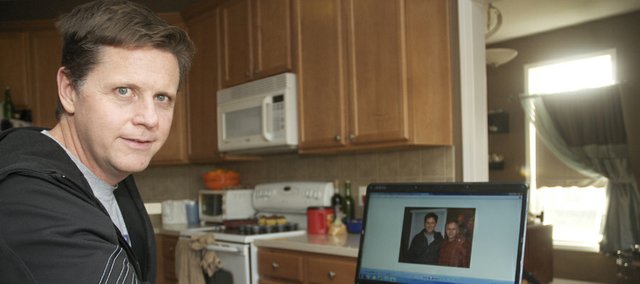 Health and family will top many lists of blessings this Thanksgiving. For 42-year-old Mike Brungardt of Baldwin City, the two are the same.
Brungardt will enjoy his Thanksgiving dinner with his wife, Jill, 17-year-old son, Jake, 15-year-old daughter, Libby, and other members of his Baldwin City extended family with a new lease on health thanks to a kidney he received last spring from his older brother Chris.
The transplant came six years after a medical exam Brungardt took when seeking to secure additional life insurance revealed he had IgA nephropathy. One of the most common of kidney diseases, IgA nephropathy causes renal failure in 20 to 30 percent of those with the disease.
Brungardt fell into that unfortunate percentage, although he was unaware he had any problems before the exam.
"I felt fine," he said. "Kidneys have so much excess capacity, it's not until you're down to the last 10 percent that you have any problems."
A lot is unknown about the disease, Brungardt said. It's more common in men and more prevalent among Asians. It's not genetic and tests on family members after his diagnosis were all negative, he said.
He was told at the time the disease had progressed to the point that he would probably need a kidney transplant in the future, Brungardt said. But with medication, it was thought that surgery could be delayed until after his children were grown. However, that schedule changed when doctors saw the numbers from one of his regular follow-up tests in the summer of 2012.
"They found my kidney function had really taken a nose dive," he said. "I think it was kind of a surprise to them because I had been relatively stable for some time.
"Right away, they started screening me for a transplant and preparing me for dialysis."
Soon, Brungardt started suffering from chronic fatigue, a symptom of renal failure, and started in-home, overnight dialysis treatments a year ago.
On a separate front, transplant screenings had started with no shortage of volunteer donors, Brungardt said.
"All five of my brothers and sisters volunteered for the screening," he said. "It was the same with Jill's family. My in-laws all volunteered. It feels good to have people in your life like that."
His brother, Chris, and his sister, Linda Schulz, coordinated the donor efforts with a separate team at Kansas University Medical Center. Chris was eventually selected because of a number of factors, the most important was the brothers share the same physical stature.
Chris, an environmental consultant who lives near Sacramento, Calif., said his wife, Jamie, was apprehensive about the kidney donation, but both were committed to helping his brother. He, too, is thankful medical technology made it possible to restore his brother's health.
"I'm thankful the kidney wasn't rejected and he's off dialysis, and the way God made our bodies so that it could be done," he said.
The surgery occurred during the week of the March Big 12 basketball tournament. That backdrop helped lighten the mood as Chris, a Kansas State graduate, and Mike, a Kansas University alum, questioned the doctors about whether the transplant would take.
"That was a concern," Chris said. "I got a lot of mileage out of that as we went through the process. I would say, 'I have one more question. Is his body going to reject a K-State kidney?'"
Brungardt said he and Chris recuperated in adjoining rooms after routine surgeries
"Kidney transplant surgery is harder of the donor than the recipient because they have to go in deeper and cut through more muscle tissue to get it out," he said. "They don't remove the old kidneys. I now have three kidneys, they transplant the new one lower in the abdomen where they don't have to cut through as much tissue.
"I was never on pain medication after the surgery. Chris had a harder time with that."
His pain was easily managed with medication, Chris said. But the lingering effect from the surgery and his body learning to function with the one remaining kidney did require some down time.
"It was about three months before I fully adjusted," he said. "I went back to work full time after five weeks."
Brungardt said he returned to his job as city engineer for De Soto on the same day.
As he thanks Chris for his new kidney on Thanksgiving, he will also be thankful there are people like his brother in the world, Brungardt said.
"He was the one when we were growing up who would bring stray dogs home because they were hungry," he said. "When Jake had a heart valve replacement in 2005, Chris was at his bedside at the hospital as much as Jill and I were. It was the same way when our father had double-bypass surgery this summer.
"I really think if he heard of a stranger who needed a kidney to survive, he would give it. I really admire the way he treats other people."