Baldwin school board, teachers reach contract agreement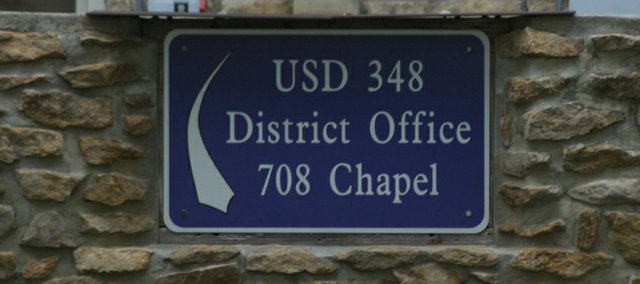 The Baldwin school district and its teachers have come to a mediated agreement for a 2013-2014 school year contract.
The Baldwin school board approved Tuesday an agreement that provides raises for those teachers who taught in the district during the 2012-2013 school year. Returning teachers will receive a salary increase equal to that of the next highest step level in experience and will get added pay for certifications, courses and degrees completed in the past year. Those teachers at the maximum experience level will receive an $800 stipend.
While approving the teachers' contract, the board also approved 2 percent raises for classified personnel and administrators. Superintendent Paul Dorathy said with the board's approval of the teachers' agreement and raises the district payroll would increase $131,294 for this school year. Of that, $94,000 would be for additional teachers' pay.
The district and Baldwin Education Association came to impasse in negotiations and the agreement was negotiated in the presence of a mediator from the Kansas Department of Labor.
Mike Curran, Baldwin Education Association president and its lead negotiator, said the union members "overwhelmingly" approved the contract late last week.
Board President Nick Harris said the board's negotiating team took a fair offer to the negotiating table.
"The mediator found that was all the district could offer," he said.
Curran said the agreement was hashed out fairly quickly once the mediator got involved. The contract rewarded teachers for experience and the investments they made in furthering their education, he said.
The district's base salary for new teachers remains $33,625. Dorathy said the district remained competitive with other districts and has been successful in attracting quality young teachers. But he added, the district would like to do better and there was a statewide concern about the need to improve base salaries to entice young adults into the profession.
The solution, Dorathy and Curran agreed, needed to come from Topeka.
"I am concerned the Legislature is not going to give any more money to school districts," Curran said. "I wish Topeka understood in order to provide our children a quality education, you have to spend on that. The economy is still difficult. Young teachers particularly are struggling with that."
In other business: the board received its annual audit from Sean Gordon of Mize Houser & Company. He said the district received a "clean" audit for the year with no concerns noted. Superintendent Paul Dorathy said that was a rare achievement given the amount of funds that move through district accounts each year and the complexity of state school finance laws.