Baldwin Bulldogs well represented on Frontier League post-season volleyball team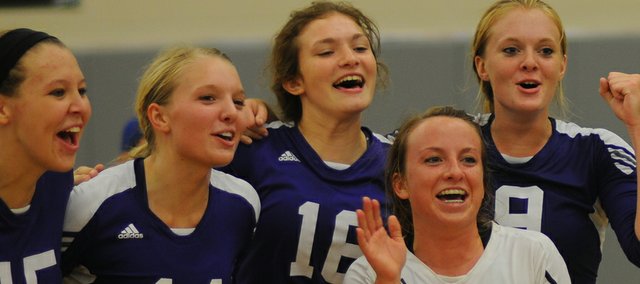 As should be expected from a squad that posted the second-best winning percentage in school history at 33-7, the 2013 Baldwin High School volleyball team is well represented on Frontier League post-season teams.
Bulldog coach Jill Brown said five players were named to league post-season honors.
Selected by league coaches to the first team were juniors Jordan Hoffman and Alexia Stein. Hoffman finished the year with 369 kills, 45 aces, 149 digs, a 2.5 serve-receive rating and 22 blocks. Stein had 320 kills, a .411 hitting efficiency, 50 aces and 35 blocks.
Selected to the second team were senior Morgan Lober and junior Corey Valentine. Lober had 233 kills, a .431 hitting efficiency and 26 blocks. Valentine finished the year with 854 assists, 115 digs and 29 aces.
Honorable mention selection Madeline McCrary had 276 digs, 27 aces and a 2.5 serve-receive rating.
Seniors Lober and McCrary were among the seniors selected to play for Kansas in the Greater Kansas City Volleyball Coaches Association all-star match. The Kansas team will play Missouri all-stars at 5 p.m. Sunday at Avila Univesity.
Players from the team also cracked the school's season top 10 list in a number of categories. Those included Valentine at No. 1 with 854 assists, Stein at No. 6 with 320 kills and 50 aces, Lober at No. 8 in kills with 233, Hoffman No. 3 kills with 369 and No. 8 in digs with 149 and McCrary at No. 2 with 276 digs,