Baldwin City Public Library gets underway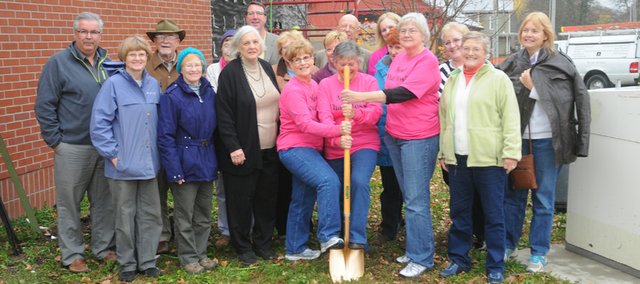 It remained noisy Tuesday inside the Baldwin City Public Library no matter how much Kathy Johnston "shussed."
The noise wasn't coming from hyperactive children but from jackhammers chipping away on concrete.
Workmen with Gene Fritzel Construction started Monday morning on the $777,000 library expansion project. City Administrator Chris Lowe said the contractor had 158 calendar days to finish the expansion but would get additional days should weather stop work.
Despite all the noise, very little about the library's day-to-day operation would change, Johnston said. The most noticeable change would be how patrons access the library.
Johnston said starting today, the front entry doors facing Seventh Street will be blocked and patrons will access the building through a north door facing High Street. It can be a little difficult to open and those with physical disabilities may need to make arrangements for help, she said.
The other immediate change is the closing of the conference room, Johnston said. With that, the 10 a.m. Wednesday children's Storytime with Miss Barbara has been moved to the Lumberyard Arts Center at 718 High St., she said. The monthly Book Talk group will continue to meet at the library.
The library may have to close one or two days when utility controls are moved, which would cause the loss of electricity, phones and Internet, Johnston said.
Late in the project, the southeastern portion of the library would have to be curtained off with plastic as renovations are made there, Johnston said.
Plans that the library board approved in June will add 3,220 square feet to the library's existing 5,958 square feet with an L-shaped expansion to the south and west. The Kansas and local history collections will be moved to the new addition. The space those collections now occupy will be home to an expanded young adult section.
The project will also provide a meeting room adequate for the Baldwin City Council and municipal court. A private consultation room for executive sessions will be included. The contractor will also replace the roof of the current library and its heating and air conditioning systems.
The city is financing $500,000 of the project through a bond issue, which is to be retired with revenue from the city's quality-of-life sales tax. The library board approved funding the rest of the project.