Speaking up for heroism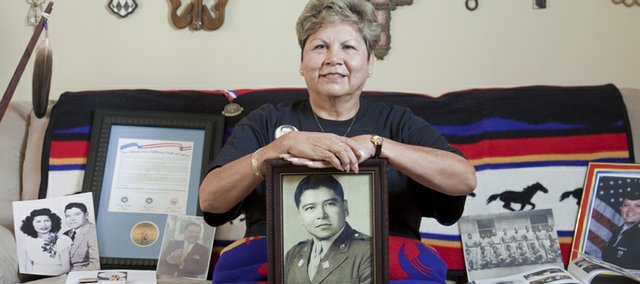 Gail Reed remembers her late father, Willington Mihecoby, as a verbose man with a booming voice.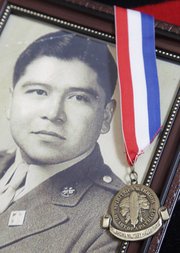 "Daddy was very vocal," Reed said. "He loved to talk in public, and he never used a microphone."
But her father could be reticent on some topics. For example, ,he rarely talked about his service in World War II and never spoke about how he used that distinctive loud voice with the U.S. Army's 4th Signal Corps.
The reason, Reed said, was that it was a top-secret mission and continued to be so after his discharge in August 1945.
Her father was a Comanche code talker in Europe during World War II. From frontline positions, the code talkers sent radio or field telephone reports to fellow Comanches posted in rear headquarters, which any eavesdropping Germans couldn't understand.
The Comanche code talkers, as well as those from 24 other American Indian tribes, will be recognized for their service in WWII with a Congressional Gold Medal at a Nov. 20 ceremony in the U.S. Capitol Building. Eight other tribes will receive the medal at a later date.
The presentation of the nation's highest civilian honor to the tribes will end a nine-year effort to secure the honor. Only one of the code talkers from the tribes to be honored is still alive. Reed's father, a department head at the Navajo Boarding School in Shiprock, N.M., died in 1975 of complications from diabetes, she said.
Her father was a strict disciplinarian who placed a great value on education, Reed said. He was just a few hours shy of completing his doctorate when he died, she said.
"When Daddy said 'no' he meant no and you never asked again," said Reed, of Baldwin City. "But you could always go to him with anything. If you had a question about homework, he had a way of answering it that made you kind of figure it out by yourself."
Lanny Asepermy, veterans' historian for the Comanche Nation, said Mihecoby was one of 17 young tribal men fluent in Comanche who answered the U.S. Army's call in December 1941 for a special assignment. They all knew each other from attending Fort Sill Indian School.
"They dressed in military uniforms there and had drills," he said. "They all hunted, so they knew how to use a rifle. They would have been familiar with military routine when they joined the Army."
They weren't allowed to speak their native language while at the school, Asepermy said.
Mihecoby was the oldest of the recruits and among the best educated, Asepermy and Reed said. As such, he assumed a leadership position with the code talkers.
Although mostly silent about his wartime experiences, Mihecoby did tell his children he was among those who hit Utah Beach on June 6, 1944. But Reed said she didn't know what he did after D-Day and the battle for Normandy that followed.
That story is very briefly told in the discharge papers her father preserved inside a leather pouch, along with a 1947 newspaper clipping about his wedding to his wife, Verna.
Issued on Aug. 24, 1945, or one week before his 31st birthday, the discharge paper states Mihecoby followed the Normandy campaign with participation in the liberation of northern France, took a detour to fight in the Battle of the Bulge and then crossed into German for the Rhineland campaign. At the end of the war in May 1945, he was fighting in central Europe.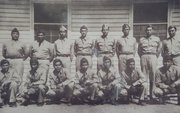 The duties in forward positions put the Comanche in dangerous positions but all survived the war. His discharge papers reveal Mihecoby was awarded a bronze and a silver star for his actions in combat.
Most Native American code talkers served in the Pacific because the German command was aware American's used four Comanche and a number of Choctaws in World War I for the same purpose, Asepermy said. In an attempt to reduce their effectiveness in another war, German researchers were sent to the United States in the 1930s to learn Native American languages.
Asepermy said he didn't know if the Comanche language was one of those the Germans studied. But it would have done the Germans no good because, as part of their training, the Comanche and code talkers from all tribes developed code words that hid the meaning of messages they communicated.
"Even if you were a Comanche and heard what they said, it wouldn't make any sense," Asepermy said. "The used code words like turtle for tank, pregnant bird for bomber and egg for bomb that wouldn't mean anything to those who weren't trained."
The Navajo's exploits were best known because 420 code talkers from that tribe served in with the U.S. Marine Corps in the Pacific Theater, which was more than any other tribe, Asepermy said.
With the recognition that came with those numbers the Navajo code talkers were recognized with a Congressional Gold Medal in 2000, Asepermy said. The efforts to secure the same honor for those from other tribes began in 2006. As the point person for the Comanche, he traveled from his Lawton, Okla., home to Washington, D.C., annually from 2006 through 2008 to lobby for the measure and compiled a "foot-and-a-half" stack of documentation to support the honor.
"Congressional Gold Medals have to be approved by two-thirds majorities of both houses," Asepermy said. "It failed four times before it passed."
Reed said she would be among the Comanche delegation at the ceremony with her younger sister and brother and two sons, Tony and Scott.
Comanche Nation officials will receive the Congressional Gold Medal, while she will receive a silver replica and grandchildren bronze replicas, she said.
Growing up in Farmington and Shiprock, N.M., she didn't have a chance to get close to her Comanche relatives or learn their traditions, Reed said.
"Mother was Kiowa, and I knew my cousins on her side, who are considered brothers and sisters," she said. "One nice thing to come from this is I've met my cousins on Daddy's side, and I'm learning pieces of their traditions."
France recognized the Comanche code talkers' contribution in the fight to liberate that country in 1989 with a Chavalier of the National Order of Merit, Reed said. And the French have invited the descendents of the code talkers on an expense-paid trip to be part of a Nov. 20 ceremony in Normandy, she said.
"I'll be able to walk where he landed on Utah Beach," she said. "Daddy would have liked that. He was very patriotic.
"He always bought red lapel poppies on Veterans Day and Memorial Day. He'd tell us 'You better wear your poppies.' He always hung the flag on those days."