Baldwin loses in state soccer semi-finals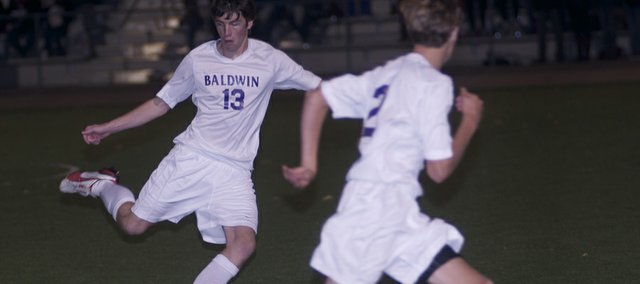 TOPEKA — The Baldwin High School boys soccer team's quest for a state championship ended Friday with a 1-0 loss to Rose Hill.
The only goal of the state 4A-1A semi-final match came with 11:07 to play in the second half. The goal came after one of two Rose Hill corner kicks and came got on a kick from the right side that crossed in front of a Bulldog defender and goalkeeper Tyler Courtney into the left quarter of the net.
Baldwin coach Mark Joslyn credited Rose Hill with cashing in the opportunity but was proud of his team's effort.
"I thought we actually played well," he said. "I liked the way we controlled the ball, particularly in the second half. I though we played better in the second half against the wind."
The first half was played evenly with much of the action coming at midfield.
Baldwin was the more aggressive team early in the second half, controlling the ball nicely as they set up to attack the goal. But they couldn't get it past the Rose Hill goalie.
"He was their best player tonight," Joslyn said. "Sometimes it goes in and sometimes it doesn't."
Baldwin plays McPherson in the consolation match at noon today at Topeka's Hummer Sports Park.