Drury University administrator, dean introduced as second Baker University president finalist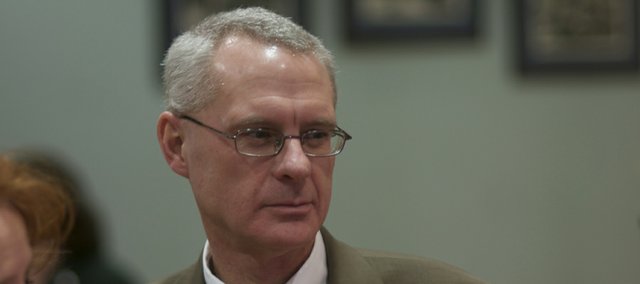 Charles Taylor, the second finalist to be the next Baker University president, was introduced Thursday as a first-generation college graduate who hasn't lost his "gee-whiz" attitude for higher education.
Taylor embraced and amplified on that characterization Hoot Gibson, Baker presidential search committee chairman, applied to him in his remarks Thursday to an assembly of students, faculty, staff and community members on the university's Baldwin City campus.
The vice president of academic affairs at Drury University in Springfield, Mo., and dean of the school's college of communications said he was still as thrilled with the academic environment as he was as a Harrisonville, Mo., teenager who considered enrolling at Baker University.
"One thing that makes this environment so special is collectively we have a stake in advancing the dreams and ambitions of students," he said.
The most "authentic" thing he did at the university was teach the course "The Politics of Rock and Roll," he said.
Taylor was just as enthusiastic about Baker, saying it was meeting the challenges of access, accountability and affordability that all universities were facing.
Access meant increasing representation of historically under-represented groups, use of technology to expand educational opportunities and face-to-face interactions between students and instructors, an area in which he said Baker excelled.
He said one opportunity to expand the school's diversity was to increase the number of international undergraduate students, who currently account for about 1 percent of the student body.
Already a concern, affordability loomed large as a problem with the student debt "bubble" having the potential to duplicate the mortgage housing bubble debacle of the last decade, Taylor said. But he noted Baker graduates' default rate was low at about 4 percent. He attributed that to the endowments that helped make tuition affordable and the value of the school's education.
As for accountability, Baker shared the same faculty evaluation methodology as Drury, Taylor said. While Drury's results were very good, he "envied" those of Baker instructors, he said.
Higher education is expensive, Taylor said, again praising the school at being accountable to the families footing the bill by providing the education that allows students to be successful.
"Baker is accountable to itself," he said. "You are accountable to each other. There is a spirit [wife] Jan and I have sensed we've been on campus that you are committed to helping this place move forward in all the right kinds of ways."
The school's success in those three areas and others made it undervalued, Taylor said. That could be a winning message to supporters and potential contributors, he said.
Gibson said as vice president of academic affairs at Drury University, Taylor helped add several graduate-level programs.
Taylor continues in the position as dean of Drury's college of communications he has held since 2003.

Taylor earned his undergraduate degree from College of Ozarks and his master's and doctorate in speech communication from the University of Illinois.
Taylor's visit to the campus followed that of the first finalist, Lynne Murray. The third candidate will be revealed before that finalist's scheduled campus visit Monday and Tuesday.
Gipson said the search committee would name the person to succeed President Pat Long some time between Dec. 1 and Dec. 9, depending on when the search committee could assemble.
Long announced last year she would resign June 30, 2014, the position she's held since 2006.