Owners view antique stores' proximity as asset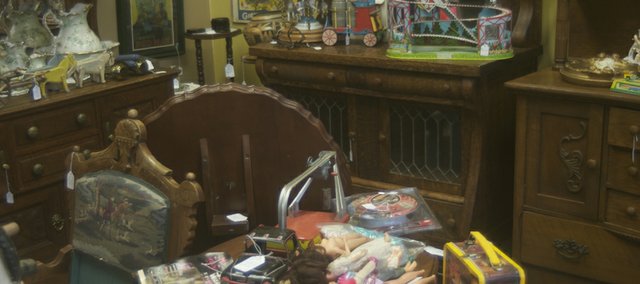 What's the recipe for a town like Baldwin City? Historical sites, diverse restaurants and antique shops?
Baldwin City has not one, but two antique shops, and by the end of November they will sit side-by-side at the corner of Sixth and High streets.
Multiple antique shops make a city more of a destination, said Stan Vickers, owner of Antiques on the Prairie. "So two of them together helps out, it's good to have multiple people pulling together. I think antique shops and food are two of the main ingredients, and then you have to have a town that, as Baldwin is, (is) a quaint little hide away."
Previously located at 703 8th St., Days of Old Antiques was owned by Rita McCall. Christy and Bill Snyder rented booth space from McCall and eventually decided to partner with McCall on a move into the renovated building at 603 High St.
"We have a lot of similar tastes," McCall said. "We just like the same types of things, and work ethics are a lot the same, but in order to do it, we needed a bigger space, and that's basically why we moved."
They thought they'd be in the newly renovated building on Oct. 1, but prolonged construction has caused them to temporarily move into the space beside it. They are now hoping to be in the building by the end of November. Their contract for this location is for two years.
Although they haven't moved in yet, the new location has already helped improve the shop's business.
"Apparently there's more access here. More people drive by, because we've had people coming in since before we were even moved in completely and buying stuff before we were actually even open," McCall said. "Also because (Vickers is) over there, at Antiques on the Prairie, and he sends people our way and we send people his way. So he's been very helpful that way, too."
While they don't refer to it as competition, McCall and Christy Snyder said their prices are comparable to Antiques on the Prairie and other antique shops in the area.
"I think we can pretty much compete with any place around, actually," Snyder said. "With him up the street, too, I think we pretty well compete with him."
"It really is not like a competition at all. It's much better," McCall added. "We're just friends and, like I said, we send people over there, they send people over here."
Its new proximity has also helped Vickers remember to send customers to Days of Old Antiques if they can't find what they're looking for in his store.
"I know when Rita was up on the hill, it was kind of a wrestling match to remind myself to send them to Rita's, but I would try to make that effort to do that," Vickers said. "It's easy enough for me just to bat (customers) back and forth here."
The partners hope to have a grand opening with a ribbon-cutting ceremony once they get settled into their new location.
"We welcome anybody to come into our store and look around," Christy said. "We've got some options out there for everybody."