Finalist for Baker University president touts small-town roots, fundraising priorities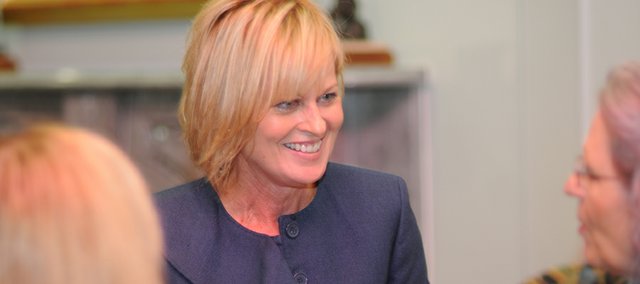 Lynne Murray, the first of three finalists for Baker University president to visit the campus, told a gathering Monday that she is a "small-town girl" who earned her undergraduate degree from her hometown university.
Murray, the vice president of development and alumni and international relations at Gallaudet University in Washington, D.C., made the remarks to students, faculty and staff at a gathering on the Baldwin City campus.
Hoot Gibson, chairman of the presidential search committee, said the two other finalists in contention to succeed Pat Long as Baker president would be announced before they visited campus in coming days. Long announced last year that she would resign June 30, 2014, from the position she has held since 2006.
Murray said she grew up in St. Mary's City, Md., about a block from St. Mary's College of Maryland. She went on to earn a master's degree in marketing from Johns Hopkins University and a doctorate in special education administration from Gallaudet University in Washington, D.C.
Her childhood and undergraduate experience taught her the importance of healthy partnerships between small universities and their communities, Murray said.
"I would really like to get to know the community, and I would open the home much like Dr. Long has done," she said. "I think there is an integral partnership between the university and the community and this president has a piece in leading and framing that relationship."
It was Baker's quality that prompted her to apply for the position, Murray said.
"From an outsider looking in, it's the excellence you bring," she said. "You're No. 1 in almost everything — in academics, sports and in faculty. That's what attracted me. You are in a very special place right now."
Gibson said Murray's success in fundraising and university advancement in positions at Gallaudet and Georgetown University of Washington, D.C., made her stand out to the search committee.
"She's had a tremendous record in higher education fundraising," he said. "We had the opportunity to interview her references, and they validated that experience."
In response to a question from the audience, Murray said her fundraising priorities at Baker would be to help boost student enrollment, creation of a faculty excellence fund to attract and keep quality faculty and finding corporate sponsors for athletic scholarships and programs, which is important at a school at which more than 50 percent of the student body participate in sports.
According to her profile on the Gallaudet University website, Murray worked in the school's office of development from 1997 to 2007 and was its director for five of those years. During that time, she led two successful capital campaigns and was credited with raising the university's profile through strategic partnerships.
Before returning to her present position at Gallaudet in 2010, Murray worked as senior director of advancement at Georgetown.
Gibson said the second finalist would be announced after Murray's departure and would be on campus Thursday and Friday. The final candidate will be on campus Nov. 11-12.
"All three candidates have experience growing up or are currently living in small-town environments," Gibson said. "They are all aware of the environment here and very excited about it."
Gibson said he the committee would make a decision during the first nine days of December, depending when all members could gather.