Baldwin Bulldogs advance to state soccer final four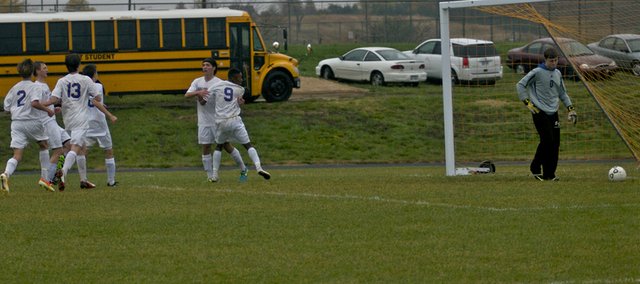 The Baldwin High School boys soccer team earned a hard-fought ticket Tuesday to the 4A-1A final four with a 2-1 victory against Bishop Ward.
With the win, Baldwin (17-1-1) will play Rose Hill, 14-3-2, at 7 p.m. Friday at Hummer Sports Park in Topeka. The winner will match up against the survivor of the 5 p.m. match between McPherson, 17-1-1, and Bishop Miege, 12-7.
In a match played in a light drizzle on a slippery field, the Bulldogs found themselves behind at halftime against a Bishop Ward team that has been on a roll after losing its first six matches of the year.
"They came out strong," said Baldwin coach Mark Joslyn. "We had the typical offense with plenty of good chances. Then, they got a cross and, bam, they were ahead. We started pushing too hard and stopped going side to side. I thought the second half we were patient.
"We hadn't been down at halftime all year, so it was a nice victory for this team — in terrible conditions."
Joslyn credited senior goalkeeper Tyler Courtney with keeping the Bulldogs close with a great first-half save.
"There was a lot of ricocheting between the boxes," Courtney said. "They got off a great shot in the upper 90s. I just barely got a fist to it."
The Bulldogs had opportunities in the first half but could not find the net. The team kept up the pressure with the start of the second half and was rewarded when Noah Pippert was fouled in the box for a penalty kick. Senior Nick Joslyn cashed in the kick just more than 36 minutes to play in the match.
Joslyn scored again slightly more than six minutes later to give the Bulldogs a lead it would never relinquish.
"I saw the ball going up the left side so I made my run on the right side," Nick Joslyn said. "Duncan (Murray) got the ball in the middle. I screamed for it. He played me a perfect ball, and I just picked my spot and found it."
Baldwin has a similar one-point advantage in the second half of its first-round state match last year against K.C. Christian. In that contest, coach Joslyn chose to pull his team back with the lead and force Christian to score against a stacked defense. It did and would eventually win the match in a penalty kick shootout.
Against Bishop Ward, Baldwin kept attacking, and though tantalizingly close, couldn't score the goal that would have put the away. But the strategy kept the ball on Baldwin's side of the field for much of the second half and limited Bishop Ward's scoring chances.
"I learned my lesson last year," coach Joslyn said of the different strategy. "This team is more offensive oriented I pulled a couple guys deeper, but this team is better if they go forward than getting into a defensive posture."