Baldwin boys first, girls surprising second at state cross country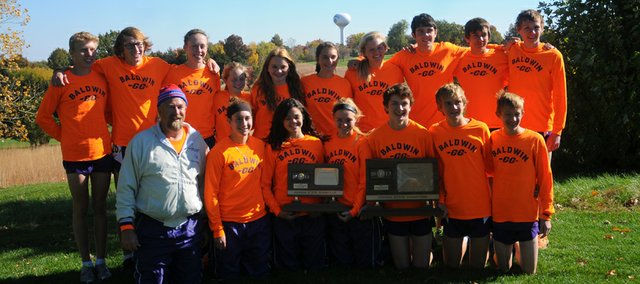 The boys finished first with 49 points, well below the 78 points second-place Winfield posted. It was the boys 11th team title but first since 2010. The girls finished with 70 points or 14 points behind champion De Soto.
"It was an awesome day to bring home two top trophies like that," coach Mike Spielman said. "I think everyone expected the boys to do very well from what they've been doing all season, but the real surprise is how the girls competed."
On the girls' side, the state meet turned into a showdown of the Frontier League's top three teams. De Soto, which won the Frontier League title two weeks earlier, captured the state championship. Baldwin, however, leapfrogged Paola, who finished ahead of the Bulldogs in the league championship and last week in the regional meet.
"We actually made a run at De Soto, too," Spielman said. "It was closer than we thought when we started adding it up. They (Baldwin girls) did a nice job of moving up. They had the best last mile of the race."
Sophomore Addie Dick said she and freshman Daelynn Anderson, who finished 15th, passed a Paola runner near the end of the race to help move the team up to second.
"We all pushed each other throughout the whole race, and I felt really good," she said.
Sophomore Mackenzie Russell also medaled with a 19th-place finish. Helping Baldwin top Paola were Hannah Hutton, 27th-place, and Libby Verhaeghe, 36th place.
Hutton was all smiles after learning of the team's finish in her last race as a Bulldog.
"Right after we finished, we thought we finished third, so I'm really happy with this," she said. "We all ran our hardest and wanted to do our best for the last meet."
The overall strength of the boys team helped it overcome a Winfield team, which had the first- and second-place finishers in the 5K race with Josh Hanna and Riley Osen. Junior Joe Pierce said the team's success was obvious to him as he watched his teammates follow his eighth-place finish and sophomore Dakota Helms fourth-place finish.
"As soon as I finished and I saw everyone come in right behind me, I couldn't contain myself," he said. "It was the happiest moment of my life so far."
Earning medals with top-20 finishes were Helm, Pierce, sophomore George Letner in 12th-place and senior Ethan Hartzell, who finished 19th.

It was Hartzell's fourth individual medal at the state meet. He finished sixth as a freshman, second as a sophomore and fifth last year. The nagging effects of a foot stress fracture prevented him from finishing that high as a senior, but being part of the second state title team was more important to him, he said.
"I finished where I started," he said. "I've been here watching all these guys develop from freshmen and now they're having success at state. It feels awesome."