Bulldogs wrap up perfect regular season with 42-17 win against rival Eudora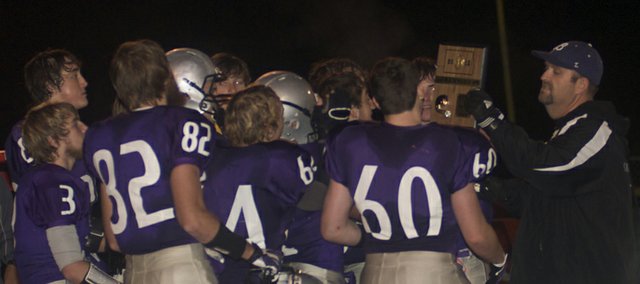 Baldwin High School senior football players hit a trifecta Thursday night at Liston Stadium.
The Bulldogs wrapped up an undefeated regular season, claimed an undisputed Frontier League title and moved on to post-season play as district champion Thursday with a 42-17 victory against Eudora.
Although Baldwin would separate from Eudora in the senior night game, the Cardinals came out with plenty of scrap against its rival. Eudora did something few teams have been able to do this season when it put together a sustained drive before settling for a field goal in the waning seconds of the first quarter.
Baldwin coach Mike Berg said that wasn't unexpected, but added it was good for his team to be tested as it heads into the 4A playoffs.
"It was a hard-fought physical game you would expect when playing your rival," he said. "We needed a team to hit us in the mouth to see how we would respond."
The Bulldogs, who had already put a touchdown on the board on a 32-yard Chad Berg run before Eudora's field goal, responded with a 28-point second-quarter explosion.
Baldwin answered the Cardinals' field goal, with a 10-play scoring drive, which ended with Cornell Brown's 15-yard touchdown scamper. Brown then busted a 95-punt return, giving Baldwin a 21-3 lead.
Berg added an 11-yard touchdown run on a drive set up by a Brown interception return to midfield and concluded the half with a 22-yard touchdown pass to senior Tim Craig.
Baldwin wasn't without mistakes during the burst. The Bulldogs give the ball back to Eudora when a pass went off Brown's hands for an interception, and a holding penalty wiped out senior Craig's long kickoff return for a touchdown.
Craig would score a senior night touchdown when a scrambling Berg found him in the end zone as time expired in the first half.
"I was just trying to find a place open in the defense to make myself a target for Chad," he said. "It was a perfect pass. It was like playing 500 in the backyard."
Baldwin opened the second half with a long drive that ended with a red-zone fumble. Nothing went wrong on the Bulldogs' next possession, a 36-yard drive that ended with a three-yard touchdown drive from sophomore Joel Katzer.
With the win, Baldwin's 16 seniors are assured of a least one more game at Liston Stadium. The Bulldogs will play St. James Academy at 7 p.m. Tuesday in the first-round of the state playoffs.
"The seniors have led us the whole way with a never-quit attitude," Berg said.
Baldwin defeated St. James, 56-18, in the third game of the season for both teams.
Baldwin 42, Eudora 17
Baldwin (9-0, 6-0, 3-0) 7 28 7 0 — 42
Eudora (5-4, 3-3, 1-2) 3 0 0 14 – 17
Baldwin scoring: Chad Berg, 32-yard run (Matt Michels kick); Cornell Brown, 15-yard run (Michels kick); Brown, 95-yard punt return (Michels kick); Berg, 11-yard run (Michels kick); Tim Craig 22-yard pass from Berg (Michels kick); Joel Katzer, three-yard run (Michels kick)
Eudora scoring: Austin Downing field goal; Grant Elston, one-yard run (kick good); Downing, four-yard run (kick good)