Baldwin defeats Ottawa to advance to state soccer tournament
The Baldwin Bulldogs earned their third-straight trip to the 4A-1A state soccer tournament Friday with a 4-0 victory against Ottawa.
Coach Mark Joslyn said the team came out focused against an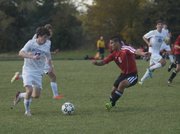 Ottawa squad it had beaten twice already this year. The Bulldogs jumped on the Cyclones early, building a 3-0 lead first-half lead on goals from Duncan Murray, Nick Joslyn and Russell Cloon. The Bulldogs scored the only second-half goal when Cloon found the net for the second time with just more than 20 minutes left in the contest.
Ottawa scored early goals in earlier losses to the Bulldogs, but could get nothing going Friday against Baldwin. Coach Joslyn credited the defense of Hunter Young and Austin Chapman with helping goalkeeper Tyler Courtney earn the shutout.
Baldwin's first round tournament match will be against a still undecided opponent on the Bulldogs home field. The winner will advance to the state quarterfinals in Topeka's Hummer Sports Complex.