Douglas County commissioners blast concealed carry law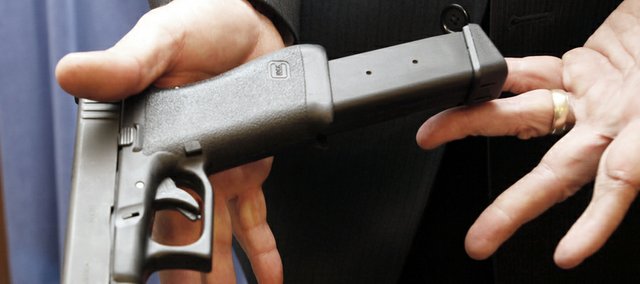 Douglas County commissioners made it clear Wednesday night that they do not approve of the state's new concealed-carry gun law, and they hope local governments throughout Kansas will band together in the near future to urge that it be changed or repealed.
"This is a local government issue, not a Kansas state government issue, and it should be dealt with locally by local government officials," said Commissioner Jim Flory, a Republican and former prosecutor. "But realizing the state has passed this statute, we need to make every effort we can to work with the Kansas Association of Counties to try to get some amendment."
The law, passed by the Kansas Legislature and signed by Gov. Sam Brownback in April, requires most local governments to allow people who hold concealed-carry permits to bring handguns into public buildings, unless the building is equipped with "adequate security measures" to make sure nobody, with or without a permit, can bring weapons into the building.
The statute defines adequate security measures as: "electronic equipment and personnel at public entrances to detect and restrict the carrying of any weapons into the state or municipal building, including, but not limited to, metal detectors, metal detector wands or any other equipment used for similar purposes to ensure that weapons are not permitted to be carried into such building by members of the public."
The statute takes effect July 1, but local governments are allowed to exempt themselves until Jan. 1, 2014, if they notify the Kansas Attorney General.
Commissioners approved sending that letter.
The law also allows local governments to request a four-year exemption, which would run through July 1, 2017, provided they show that they have a plan to secure the buildings they want to exempt.
For Douglas County, that would involve the courthouse at 1100 Massachusetts St.; the Public Works facility at 1242 Massachusetts St.; the Lawrence-Douglas County health facility at 200 Maine St.; the juvenile detention facility at 330 Industrial Lane; and the Douglas County Fairgrounds.
The Judicial and Law Enforcement Center, 111 E. 11th St., already has metal detectors and security guards in place.
"The next step in this process will be to sit down and figure out how many thousands of dollars we will have to utilize on staff and equipment to meet these somewhat nebulous standards that have been set out instead of spending our precious tax dollars on things that our community wants them spent on," Flory said.
The law, however, does not require that local governments install those security measures. The alternative, and the intent of the law, is to allow people with permits to carry concealed weapons into public buildings.
But Flory said that was unacceptable. And Commissioners Nancy Thellman and Mike Gaughan, both Democrats, indicated that they agree.
"My view is that the only people who ought to be carrying concealed weapons in county facilities are certified law enforcement officers," Flory said. "That's my view, and I think it's a view shared by a good portion of this community."
"That's right," Gaughan said.
"What he said," Thellman added.