It's Thomas the Tank Train time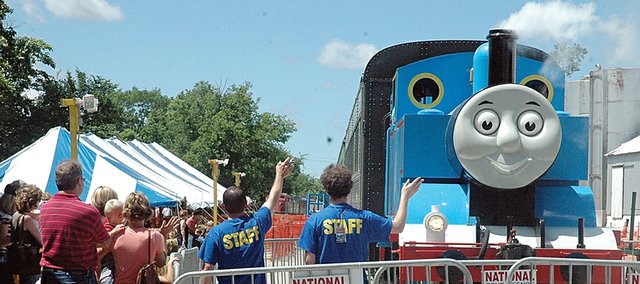 Starting Friday, Thomas the Tank Train will make his annual visit to Baldwin City known with his children-beaconning high-pitched whistle.
Midland Railway's 12th annual Day Out with Thomas will operate Friday through June 2 and June 7 through 9.
Allen Kinsley, marketing director for Midland Railway, said advance ticket sales for the event were much like last year when Day Out with Thomas drew the smallest attendance since it started coming to Baldwin City in 2002. But Midland expects 12,000 to 17,000 people to attend this year.
There is always a healthy walk-up ticket business as families in nearby communities make a late decision to take in the event, Kingsley said. Walk-up sales are welcome but guaranteed ride times only are available to those who purchase tickets in advance by calling 913-721-1211 or going online at midlandrailway.org.
The event is important to the nonprofit Midland Railway, Kinsley said.
"It's expensive to maintain 12 miles of railroad," he said. "Without Thomas, we would be hard pressed to continue operating."
The event benefits the community, as well. Organizations such at the Baldwin City Boy Scouts and high school football team either work the grounds for compensation or have food booths during the Thomas weekends, he said.
Their help makes possible the other activities associated with Day Out with Thomas, Kinsley said. Among the activities will be inflated romp playrooms, a do-it-yourself lapel-button coloring booth, a miniature golf course and a gift shop offering Thomas toys — many not available at retail stores.
Helping Thomas entertain children will be Steve Gryb, known as the Pied Piper of Percussion.
"He's new this year," Kinsley said. "He gets kids involved with percussion instruments and teaches the youngsters about them."
The other activities help make it a complete day for families, but the real draw is the enduring appeal of Thomas the Tank Train, Kinsley said.
"One thing we love about Day Out with Thomas is the kids' smiling faces," he said. "They relate to him because he has a smiling face and helps others. He's a role model for them."
Offsite parking at Baldwin High School, 400 N. Eisenhower St., with shuttle bus service to the Midland Railway will be offered during the Thomas visit. Kingsley reminded those coming from Lawrence or other points from the north or west that U.S. Highway 56 is closed between U.S. Highway 59 to Baldwin City for bridge replacement. Travelers on U.S. 59 should take the Douglas County Road 460 exit east and turn south on Douglas County Road 1055.