Battle of Black Jack annual observance to test impact of National Historic Landmark designation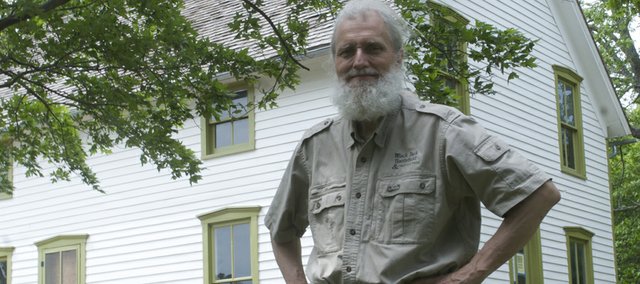 Kerry Altenbernd and other members of the Black Jack Battlefield Trust Inc. may get a better understanding this weekend of what the battlefield's designation last fall as a National Historic Landmark means.
"We know it's a good thing, but we really don't know yet what it will mean," said Altenbernd, vice president of the Black Jack trust and tour coordinator for the site three miles east of Baldwin City on U.S. Highway 56. "We know we are listed as a National Historic Landmark now. Some people going on vacation, that's what they do. They stop at all historic sites on their route."
The National Park Service designation includes the 40–acre battlefield and Robert Pearson farmstead, the adjacent 11-acre Ivan Boyd Prairie Preserve with its Santa Fe Trail wagon ruts and the two-acre Black Jack roadside park. The designation gave Black Jack an immediate attendance bump in October when the park service's announcement got a lot of media attention right before Baldwin City's Maple Leaf Festival, traditionally the last weekend of seasonal site tours at Black Jack.
"There was a lot of interest right after the announcement," he said. "Maple Leaf weekend was twice what is was the previous year. A lot of people came after reading about the designation."
Attendance hasn't increased noticeably since weekend tours resumed May 4, but Altenbernd said the wet, chilly spring likely discouraged visitors and attendance generally increased with the end of school.
This coming weekend will be a test. The site will have its annual commemoration of the Battle of Black Jack, which Altenbernd said was the first armed conflict between anti- and pro-slavery forces in the Civil War.
The battle was fought on June 2, 1856, when John Brown and 29 men surprised and then subdued the pro-slavery forces of Henry C. Pate.
Altenbernd, who wears a full grey beard, will once again assume the role of John Brown during three "interactive tours" at 11 a.m. and 2:30 and 6 p.m. Saturday and a dawn tour from 5 to 7 a.m. Sunday. Jeff Quigley of Gardner will play Pate.
"We'll come together in the tours to discuss the battle from our individual view points," he said. "We'll talk about what it all means from our perspective. As Jeff says as Pate, 'Slavery is legal.'"
Other re-enactors representing both sides of the conflict will attend, Altenbernd said.
This year's activities are different than those of the last six years because of the ongoing renovation of the Robert Pearson farmhouse, which was built by the Battle of Black Jack veteran in 1890. Altenbernd said safety issues at the construction site forced cancellation this year of the customary nighttime battlefield tour and many of the living history activities on the farmstead.
Black Jack Battlefield, Dawn of the Civil War — June 1 and 2
Black Jack Battlefield, Dawn of the Civil War — June 1 and 2
The Black Jack site is 3 miles east of Baldwin City on U.S. Highway 56 and a quarter mile south on East 2000 Douglas County Road.
Saturday:
• Interactive battlefield tours, 11 a.m., 2:30 p.m. and 6 p.m.
• Nature Park tour, 12:45 p.m.
• Debra Goodrich Bisel, author and historian will present "The Civil War: Kansas People and Places" at 1:45 p.m.
• Michelle M. Martine, author and historian, will present "Sisters in Sorrow, Equal in Grief: The Women of Bleeding Kansas" at 4:30 p.m.
Sunday:
• Dawn at Black Jack Battlefield from 5 to 7 a.m. An interactive tour of the battlefield at the time of the battle on the date of its 157th anniversary.
The construction, made possible through a $163,000 Douglas County Cultural Heritage Grant, has also delayed trust members from starting a more aggressive publicity push based on the site's new status.
"It's like in business," Altenbernd said. "The worst thing you can do is create a demand if you're not ready to handle a huge influx of people."
The need to focus on renovations also has kept trust members from researching what websites or brochures have added references to Black Jack with its new designation, Altenbernd said. But one thing trust members do know is that being a National Historic Landmark does not come with any park service funding.
"A lot of people think we're associated with the park service, but we're totally private," Altenbernd said. "We don't have a guaranteed revenue source. All our funding is from donations or grants."
The Black Jack group hopes the National Historic Landmark listing will help it secure grants and accommodate more visitors.
"There's a spirit out here I've never felt anywhere else," he said. "It's the people, but more than that, it's the spirit of this place.