Baldwin High School girls first, boys fourth in regional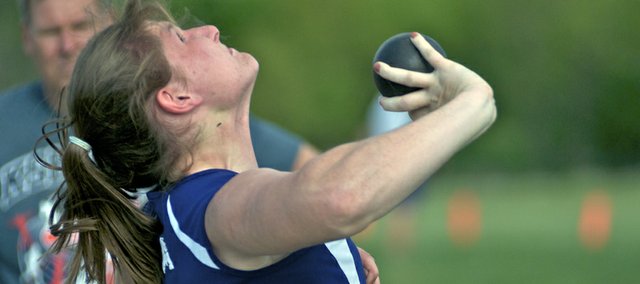 The Baldwin girls won eight of 18 events and piled up 160.5 team points to easily defend their 4A regional track and field championship.
Cheered on by a home crowd at Liston Stadium, the girls won all four relay events, and seniors Kaitlyn Barnes and Katie Kehl won two individual gold medals. Sophomore Morgan Lober also won gold, edging teammate Glenn Kelley McCabe in the 400 meters. The girls' point total was 109 points more than second-place De Soto.
BHS state qualifiers and therr seeding
Girls
100 meter hurdles: Maddie Ogle, No. 8 seed
4x100, (Elena Watson, Morgan Lober, Kyna Smith and Glenn Kelley McCabe) 2nd seed
4x400: (Watson, Lober, Kaitlyn Barnes, McCabe) No. 1 seed
4x800: (Hannah Hutton, Lober. Fayth Peterson, Barnes) No. 4 seed
400 meters: Morgan Lober, 1st seed, Glenn Kelly McCabe, No. 3 seed
300 meter hurdles, Ogle, No. 8 seed
200 meters: Kyna Smith, No. 15 seed
3,200 meters, Sienna Durr, No. 15 seed
Discus: Katie Kehl, No. 1 seed; Alexia Stein, No. 7 seed
Shot put: Kehl, No. 1 seed; Stein, No. 4 seed; Jesse Katzer, No. 6 seed
Javelin: Kelsey Kehl, No. 10 seed
1,600 meters: Barnes, No. 12 seed; Addie Dick, No. 14 seed
800 meters: Barnes, No. 6 seed; Hannah Hutton, No. 15 seed
Boys
300-meter hurdles: Mark Harman, No. 12 seed
4x100 (Joel Halford, Chad Berg, Mark Harman and Darius Johnson) No. 8 seed
4x400 (Halford, Berg, Joe Pierce and Johnson) No. 4 seed
4x800 (Pierce, Dakota Helm, George Letner and Hartzell) No. 10 seed
3,200 meter, Ethan Hartzell, No. 15 seed
Shot put, Dayton Valentine, No. 2 seed
Discus: Valentine, No. 2 seed
Javelin: Quinn Twombly, No. 13 seed; Jake Katzer, No. 16 seed
800 meters, Pierce, No. 16 seed
Junior Quinn Twombly was the only first-place finisher among the boys, winning the javelin with a throw of 154-09. Senior Dayton Valentine earned two individual silver medals with second-place finishes in the discus and shot put.
Twombly said he was surprised to win the javelin with a throw of that distance, which was short of his personal record.
The Bulldog boys team finished fourth in the much more competitive boys regional meet. Baldwin finished with 72 points. De Soto won the regional meet with 87 points, Ottawa was a close second with 85 points.
The girls 4x100-meter relay team of senior Elena Watson, sophomore Morgan Lober, freshman Kyna Smith and senior Glenn Kelly McCabe and 4x400-meter relay team of Watson, Lober, Barnes and McCabe broke school records at the regional. The 4x400 relay team clocked the best time in the state this year. Its time of 3:58.85 is better than the 3:59.15 record time for the state meet set by a Concordia team in 2009.
"It was our seniors' last chance to compete at home, and they stepped," girls coach Ted Zuzzio said. "But pretty much everybody stepped up. We have freshmen going to state.
"We have a very nice team. They worked very hard."
Barnes had the biggest medal day for Baldwin with her two individual gold medals and two more as a member of the 4x400- and 4x800 meter teams.
"It's a good way to go into state," Barnes said. "We have lots of confidence with our teams, and I think we made some statements here tonight."
The goal in Wichita is to return the state championship to Baldwin, Barnes said. Bulldog teams won the title in 2010 and 2011 before finishing second last year.
"This year's team is well-rounded and capable of scoring points in many events, Barnes said
"I think all around we have girls who are pointing in points in the throws, the jumps, the 300-meter hurdles," she said. "Every point counts, so it's really good."
The Bulldog girls will compete in 13 events at state. Fourteen Baldwin girls will compete at Wichita with 12 competing in individual events. Four girls will compete in two individual events.
Eleven boys earned a trip to Wichita with six of them earning competing in individual events.