Fee approved for Baldwin High School iPad use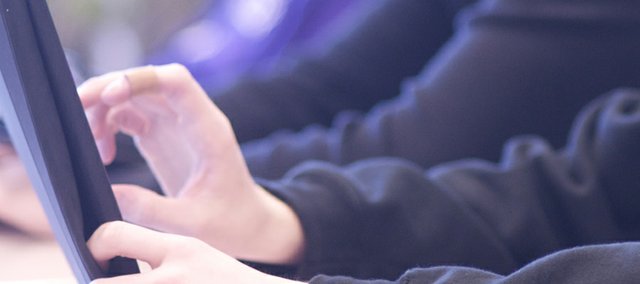 It will cost Baldwin High School students $50 next school year if they want to take the iPads they are to be issued home at night.
At Baldwin High School Principal Rob McKim's recommendation, the Baldwin school board approved the fee Wednesday as part of a policy, which will also require students or their parents pay $100 before they take another iPad from the building if the first device given them was broken or lost because of negligence.
The board approved buying 475 iPads for the high school in February and last month entered into to a three-year lease-purchase agreement, requiring a $95,949 annual payment for the devices
The fee approved Wednesday would be in addition to the school's $90-textbook fee. Students could avoid the $50 fee if they checked the iPad in every evening before leaving school.
The board had a number of questions before approving the policy, one of which is still to be answered. As it stands now, the $50 would be required of all students before they could take the iPads home at night. However, Superintendent Paul Dorathy said his understanding was the district couldn't apply any fee to students receiving free lunches or a full charge to those receiving lunches at reduced prices.
McKim said his recommendation was made after consulting with other districts in the state that have issued iPads to students. He said one that had not had significant incidents of broken and lost iPads started having problems when it discontinued the fee.
The districts charged all students, McKim said. He did not know how they avoided limitations on adding fees to those students receiving free- and reduced-lunches.
The board agreed to adopt the policy with the understanding it could be changed to conform with state mandates regarding fees to students receiving free and reduced lunches.
Board member Sandy Chapman brought to the board's attention that and other questions, some of which she said parents asked her in the last month. Among those were whether students who owned their own iPads be required to use those the school issued and whether a student could realistically complete classes without taking an iPad home.
McKim answered no to the first question because access to the Internet via the school's wireless portals would be limited to district-issued devices. As for the second question, the school opened early enough in the morning and stayed open late enough at night to allow students to complete homework or study for a test should their parents opt to not have them bring the iPads home or have no Internet at home. A limited number of textbooks would also be available and material could be printed to take home, he said.
The $50 fee will be place into a fund to be used to repair or replace iPads, but it would be more than a straight insurance premium because students would get free downloads of applications and e-books to their iPads, McKim said. The plan is now to offer students, beginning with next year's freshman class, the opportunity to buy at a reduced cost the iPads they've used for their four-years in high school when they graduate.
McKim said he would schedule a meeting soon with parents about the policy and how the school will use the iPads in school. The meeting would also allow students to work during the summer to earn money for the fee, he said.