Superintendent explains rules of
PAC

shelter use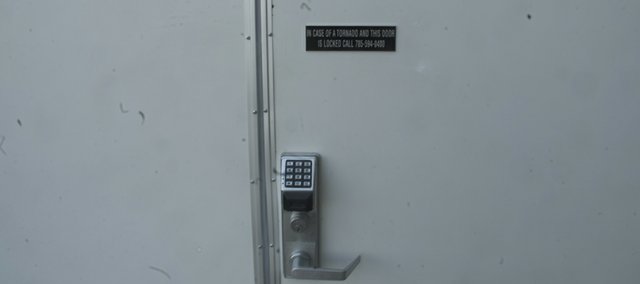 Everything is in place for the Baldwin USD 348 Performing Arts Center to be used at a tornado shelter — except the public's awareness of how to use the 2-year-old facility for that purpose.
Baldwin Superintendent Paul Dorathy tried to address that issue Thursday with an informational meeting at the PAC on the northwest side of Baldwin Junior High School, 400 Eisenhower Street, but only one family attended.
"I'm afraid people are going to show up during a storm and not know how to get in," Dorathy said.
People seeking safety at the PAC need to know that access to the shelter during a tornado can be gained through the western-most white double doors on the building's north side, Dorathy said. The glass doors to the lobby between the auditorium and gymnasium would not be open during a tornado warning, Dorathy said.
The PAC would only be unlocked during tornado warnings and not for thunderstorm warnings or during tornado watches, Dorathy said.
The white double doors are equipped with remotely operated locks, which Dorathy and other district officials will unlock when tornado sirens sound or a tornado warning is issued in Baldwin. That will allow up to 1,800 people direct access to the PAC, which was built with the help of a Federal Emergency Management Administration grant to withstand sustained 250-mph winds.
"I've timed it, and I can unlock the doors within 30 seconds of a warning," Dorathy said.
So, if all goes as it should, those seeking shelter during a tornado warning should find the double doors unlocked. But there are safeguards built into the system that provide options if the remote locks don't function.
Foremost is a battery backup to the locking mechanism that allows it to be remotely operated should electricity to the PAC fail. If that doesn't work, there is a phone number on the door that will connect those seeking shelter to someone with the code to unlock the doors or — if that code doesn't work — a combination to a lock box with a key to the doors, Dorathy said.
Light switches are to the left of the designated door. The PAC has a battery emergency lighting system that should kick in during a power failure, but those seeking shelter are encouraged to bring flashlights, Dorathy said. It is also a good idea to bring cell phones in case it is necessary to call for the lock code and a portable radio, he said.
Among the things asked of those seeking shelter at the PAC:
• Park in the parking lot and not in the fire lane next to the shelter.
• Don't bring pets. Allowing pets would create a liability issue for the district, Dorathy said.
• Don't bring food or drinks other than bottled water.
• Don't smoke in the building
• Don't bring firearms.
• Stay calm and stay away from outside doors.
• Pick up any trash before leaving.
The PAC is available as a community shelter while school is in session, but residents need to get there quickly before doors are locked, Dorathy said. All students and staff will be in the shelter five minutes after a tornado warning is sounded, he said.
The superintendent encouraged residents to have a tornado action plan, which would determine if the PAC is the right place to seek shelter. Those who cannot reach the shelter PAC within 10 minutes of a warning should find closer shelter, he said.
Situation awareness was also important, Dorathy said. If a tornado drops on or just outside the city, staying at home could be safer than driving to the PAC.
"Most people killed in tornados are killed by flying debris," he said. "You do not want to be caught outside your home or the PAC while a tornado passes."
The Baldwin City Police Department will attempt to have an officer come to the PAC during a tornado warning but does not have the manpower to have one stay at the site during what would be a community emergency.
Video cameras have been installed inside the PAC to record inside activity during a storm, but those seeking shelter are also asked to monitor the activity of others.
"Any vandalism or theft could end the use of the PAC as a tornado shelter," Dorathy said. "We're not required to do this. It's something the board decided to do as a service to the community. If things get torn up or stolen, the board may decide it's something we won't continue to do."