Baldwin High School Class of 2013 gets emotional send off from former teacher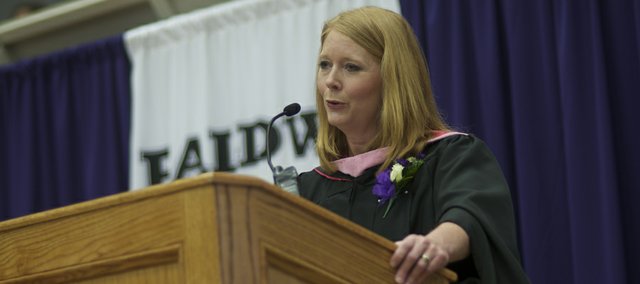 In his address at Saturday's Baldwin High School Class of 2013 graduation, Clay Thomas said his classmates overcame the bad luck associated with the number 13.
Thomas, the student body president, was the first of three students to address the 97 graduates and their families and friends who filled Baldwin Junior High School gymnasium. It was a ceremony filled with memories of the graduates' 13 years together and contemplating their individual futures. It also included an emotional address from a former teacher, who offered inspiration on how to move forward in the face of tragedy.
Thomas cited the example of Judas, said to be the 13th guest at the Last Supper, and Apollo 13, which was unable to land on the moon, as evidence bad luck follows the number 13. The Baldwin High School Class of 2013 had the bad luck to graduate a year before the district is to distribute iPads to all high school students, he said, but the class also had many accomplishments, such as helping earn state athletic titles and two Real World Design national competitions.
"I think it was one of the strongest classes to ever graduate from Baldwin High School," he said. "We excelled in the classroom, academic competition and on the athletic field."
Every one of her fellow graduates earned some kind of recognition, said senior speaker Samantha Weiss. In addition to being an accomplished class, it was a close class whose members knew who among them were best friends, who was dating whom and who broke up "and all the drama that goes with that," she said.
In the final student address, Kaitlyn Barnes, senior class president, gave her classmates a coming-of-age message, recalling high school cross country coach Mike Spielman's reminder to team members as they were getting off the bus that they were representing Baldwin.
"Our most important asset is our character," Barnes said. "After today, you are now representing yourself."
In her keynote address, Jocelyn Leonard said the class members showed their character in their and their schoolmates' response to the death of her son Wes. Leonard is a former Baldwin music teacher who taught the Class of 2013 in elementary school before moving to Michigan with her husband, Gary (a Baldwin High School graduate), and sons Wes and Mitchell.
Two years ago, Wes collapsed and died of sudden cardiac arrest after scoring a layup in overtime that preserved his team's undefeated season.
It was a lesson, Leonard said, that life can change in a moment and goes on despite grief.
"You live another day," she said, "but what do you do with that day?"
She and her husband founded the Wes Leonard Heart Team to advocate for the placement of automated external defibrillators in high schools and increase awareness of sudden cardiac arrest, Leonard said.
The Class of 2013 and other Baldwin High School students responded to her son's death by acting to prevent other needless deaths, Leonard said. She praised their efforts to raise awareness of sudden cardiac arrest and raise money to help start an annual heart clinic in the district.
"You took that tragedy that several families here in Baldwin experienced personally and decided to do something positive," she said. "You have given parents peace of mind about their children's hearts and their wellness."
Through this year's clinic, Baldwin junior Cassidy Markley learned she had a hole in her heart, Leonard said. After open-heart surgery, Markley now plays her oboe better than ever, she said.
"You are caring, responsible and goal-oriented young adults," Leonard said. "You not only completed the requirements for a degree, but you did so with honor and humanity."
In the hallway after the ceremony, friends Ethan Ward and Nathan Ruth exchanged congratulations with fellow graduates. Ward said he planned to study nursing but didn't know where yet. Ruth said he would enroll in August in the firefighter program at Johnson County Community College.
"I'm nervous, but it's great to be moving on," he said.