Baker graduates told people are what makes school magical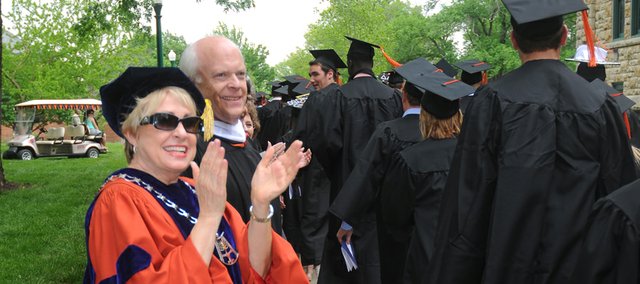 Minutes after graduating Sunday, Sydney Doster posed for photos with a big smile and ready for the next adventure in her life, which she said will take her from one magical place to another.
One of about 340 Baker University undergraduate students to receive degrees Sunday at the school's Collins Sports and Convention Center, Doster will leave in mid-July for Nepal, where she will teach English for eight months, courtesy of a Fulbright Scholarship.
Doster, a French and English major from Gardner, is preparing for a magical experience in the Himalayan country.
"I hope to get experience teaching English and get a better cultural understanding for the Nepalese people," she said. "But I think I'll end up getting things from the experience I can't even imagine right now."
Her openness for new experiences was nurtured the last four years at Baker, she said.
"Every time I was tempted to take the easy trail, professors really pushed me to climb," she said.
The magic of the Baker experience was a theme that ran through remarks that Baker President Pat Long, Senior Class President Bristol Brandt and commencement speaker Mark Kabban shared with students.
In her address to her classmates, Brandt, who will enroll in Kansas University medical school in August, said she discovered Baker's magic when waiting for a pizza to arrive during her freshman year. It was one of those "important unimportant moments" that enrich life, she said.
"Sitting there that Friday evening with my friends was a moment I will always remember," she said. "You, the people, are the true magic of Baker. It's a magic that cannot be lost."
Kabban, whom Long introduced as the youngest but perhaps most important speaker in the school's history, was not as sure as Brandt or Doster of his future success when he graduated form Baker in 2008.
Kabban founded Youth and Leaders Living Actively, a San Diego-based organization that uses soccer to motivate and enrich the lives of young refugees and war victims and as been recognized as a CNN Hero for his work with YALLA and was a finalist for the VH1 Do Something award. But, Kabban, who moved with this family to the United States to escape the civil war in Lebanon, said his post-Baker achievements came after 18 months of false starts.
He returned home to San Diego after graduation as a "boomerang kid," living with his parents. He was unable to get in the graduate school because of his college GPA and was fired from three jobs in a year.
One of the lessons from his experience he shared with the graduates was to learn from failure. One of the jobs he lost introduced him to the possibility of starting YALLA, Kabban said.
He also encouraged students to celebrate all achievements and to do so with reflection on personal growth, not measured against that of others.
Finally, Kabban gave the students a bit of unconventional advice. As YALLA grew, he often found himself in situations in which he had no direct knowledge and had to improvise.
"Sometimes, I felt like an impostor," he said. "But that's part of the game. Part of being a professional is to fake it until you make it."
Kabban said a goal of YALLA was to encourage academic achievement with the kind of support he received. He arrived at Baker on a football scholarship and with grades that put him on immediate academic probation, His graduation was "a miracle" his professors made possible through work and encouragement, he said.
"This is the place and you are faculty who taught me to think clearly and critically," he said.
Andrew Tallaferro, who graduated Sunday with a bachelor of science in biology and will study dentistry next year at the University of Missouri, said he felt the same way. It was the relationships he developed the past four years with faculty and students that made the past four years magical, he said.
"It's the people," he said. "Baker is small enough, everybody is so close. Professors have the time to get to know you and give you support of every kind."