Graduating Baker senior finds confidence to realize 'out there' goals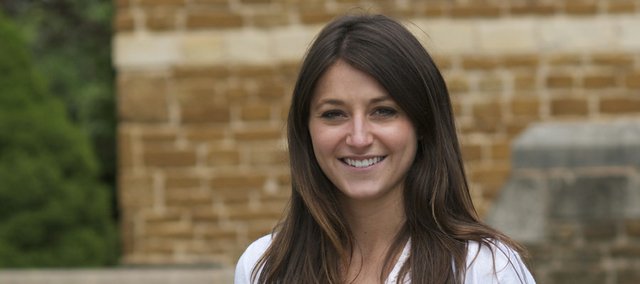 Although there were many reasons for Lauren Breithaupt to enroll at Baker University four years ago, she was determined to go elsewhere.
Her grandparents, J.C. and Carolyn, live in Baldwin City and her grandmother was a Baker graduate. Her parents are Baker alumni who met at the school. Nonetheless when Breithaupt graduated from Blue Valley Northwest, she looked at 22 other schools before choosing a college in San Antonio, Texas.
"My dad told me whatever school I chose, I'd have to drive back from," she said. "I never made it all the way to San Antonio. We turned around in Fort Worth."
With that, Breithaupt gave Baker another look.
"I took a tour," she said. "I decided it was a lot different as a potential student."
Four years later, Breithaupt says Baker was the right choice for her.
"I think Baker gave me a lot more confidence I can do what I set out to do even if it seems out there," she said. "It's given me the confidence I can succeed academically. I have a stronger idea of who I am because I have had so many role models since I've been on this campus."
Baker University graduation
Baker University's spring undergraduate commencement ceremonies will be Sunday at the George F. Collins Sports and Convention Center on the Baldwin City campus.
More than 340 undergraduate students in the College of Arts and Sciences, School of Education, School of Nursing are candidates to receive their degrees. The commencement will start at 1 p.m..
Families and friends are invited to receptions for the graduates at 2:30 p.m. at the Harter Union lobby at the corner of Sixth and Dearborn streets on the Baldwin City campus.
Keynote speakers are Jackie Snyder and Mark Kabban. Snyder is chancellor emeritus of Metropolitan Community College and Kabban is a 2008 Baker graduate, who developed a program in San Diego called YALLA, which mean's "Let's go" in Arabic and stands for Youth And Leaders Living Actively. The program combines a love of soccer and need for education to assist the young refugees in the transition to a new life and new country. Kabban was selected as a CNN Hero for his efforts working with more than 400 youth.
She also has a strong network of fellow students, faulty members, alumni and Baker supporters she can rely on in the future, Breithaupt said. Many of those she met through her involvement with parMentors, a student group who attends official university functions to greet and visit with visitors, she said. She was a member of the group three years and on its board for two years.
Nancy Richard, former Baker associate dean of students and current volunteer coordinator for the university, who heads the parMentor program, said Breithaupt was adept at identifying her goals and then realizing them.
"She's just a joy to work with," Richard said. "She is very bright, creative and a born leader. She's one of those students you like to stick out front and say 'this is one of yours.'"
Breithaupt first enrolled at Baker thinking she would major in mass communications. She switched to a major in psychology with a minor in biology, but there was no change to the motivation behind the choices. It is an interest that traces to her high school days when Breithaupt helped develop the non-profit organization, REbeL.
"REbeL means rebelling against making appearance more important than health, against peer pressure and conforming to society's standards of beauty," Breithaupt said. "I can't think of any person in my high school who didn't struggle with body image."
Eating disorders and the related issue of self esteem has been the focus of Breithaupt's studies at Baker and those of her junior year studying in Edinburgh, Scotland, said Baker University biology professor Marc Carter. On her own initiative, she found the opportunity for an honorary research fellowship at a Huntercombe Hospital and attended the University of Edinburgh, he said.
"She's far more motivated than, I think, any student I've ever had," Carter said.
Breithaupt said she was the first American to be awarded the fellowship.
"The hospital was an eating disorder hospital," she said. "I did cognitive research on food choices and worked with patients in different therapy sessions. So I got clinical and research experience while there."
She will continue her work on the subjects of eating disorders and body image in graduate school. In August, Breithaupt will start post-graduate work at George Mason University in Fairfax, Va., where she will enter a seven-year program to earn a doctorate in psychology with a focus on neurological science.
"I'm definitely excited because I know this is what I want to do," she said.
Breithaupt still as a couple of remaining Baker obligations. She is preparting three research papers with Carter for publication.
She also will compete for Baker May 24 in the 5,000-meter race-walk at the NAIA track and field outdoor championships, having won the event at the Heart of American Athletic Conference championship earlier this month.
"I had no experience at all before this year," she said. "I had to Google it when my roommate told me what it was. We laughed about it all night long. She dared me to try out."
Breithaupt did and to her surprise was good at it. She finished ninth at the 3,000-meter race-walk in the January NAIA indoor track championship. Her goal is to improve on that at next week's outdoor championship.
"The top eight finishers are all-Americans," she said. "So maybe I can say I'm an all-American."
And perhaps she can one day say she is an international track and field competitor. The NAIA develops the best athletes in the event because it is the only collegiate organization to include race-walking in track and field competitions, Breithaupt said.
She received a letter last week from the U.S. Olympic Committee inviting her to train for the Pan-American games, Breithaupt said. She's still processing the opportunity, which requires a bit of an attitude change.
"I've never been a competitive person, except with myself," she said. "I've had to develop that side of it."
As she prepares to leave Baker, Breithaupt is mulling how she will continue to be a part of the university. She wants to be an active alumna and perhaps one day be a mentor to an undergraduate student in the parMentor group.
"I will definitely retain relationships with faculty and staff," she said. "My friends and I were talking about when we can come back for a visit."