De Soto ends Baldwin's season with 8-6 regional win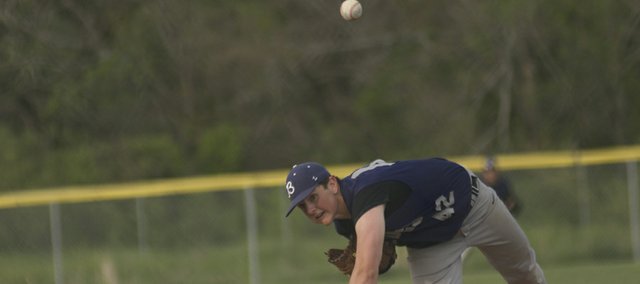 De Soto scored six runs Thursday in the bottom of the fourth inning to overtake Baldwin on its way to an 8-6 semi-final win in the 4A regional baseball tournament.
Baldwin had the best of it early, taking advantage of hard-throwing Wildcat pitcher Isaac Lueth's wildness to score one run in the first inning and five in the second.
Lueth, who Baldwin coach Brian Turk said has a 90-mph fastball, gave up four walks in the second inning and hit Colton Stark. With two out and two runs already plated in the inning, sophomore Collin Linder singled solidly to right center, driving in two runs.
Baldwin picked up another run in the third when Tyler Kapelle came around to score after drawing a leadoff walk, but was unable get much going against Wildcat relievers Jack Mayes and Nicholas Schmidt.
Baldwin starting pitcher Stark was solid through the first three innings, striking out five and giving up only one run. Turk said he wanted to get four innings from Stark, having used Hunter Young for four innings and Tyler Cawley for three on Monday. Another concern was the stiffness Brandon Mock has experienced this week in his left elbow, which put him on a limited pitch count.
It was in the fourth inning that De Soto batters started to get to Stark.
"Colton was dominant the first three innings," Turk said. "He wasn't walking people. I think he started to place the ball instead of throwing it. When you do that, your velocity comes down a little bit."
Baldwin threatened in the sixth when Cawley collected a one-out single. With two out, Linden hit a line drive to the outfield and Cawley was called out on a close play at the plate.
The senior said after the game, it thought he beat the tag, an assessment he shared with his coach.
"If he scores, we have a runner at second and chance to tie the ballgame," Turk said.

Baldwin finished the year with a 7-10 record. The still-young team showed a good deal of improvement over the 2012 squad, Turk said.
"Our goal coming into the season was to be competitive and give us a chance to win games," he said. "There were only three games we weren't competitive. In the other 14 games, we went into the six inning with the lead, tied or down by less than two runs.
"There were a lot more non-competitive games last year."
Thursday's loss with the last game for the team's two seniors, Cawley and Zach Trowbridge. Cawley will play next year for Baker University.