Board hoping contractor interest means good bids for auditorium remodel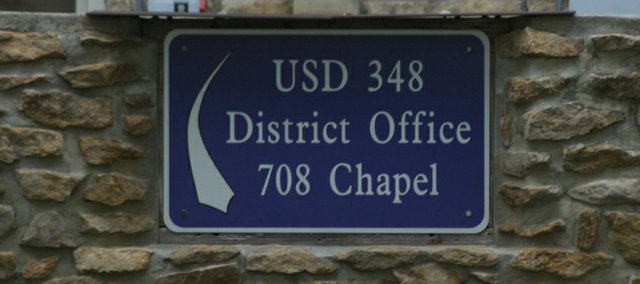 Strong contractor interest in the remodeling of the old Baldwin Junior High School auditorium could mean good news May 17 when bids are for opened for the project.
At a special Baldwin school board meeting Thursday, Doug Loveland, architect with DLR Group, told the board that four general contractors and 16 subcontractors attended a pre-bid informational meeting earlier in the day. All the general contractors at the meeting, plus another not present, have genuine interest in the project, Loveland said.
Competitive interest is important to the district, because Loveland's project estimate of $746,000 exceeds the $600,000 in remaining 2008 bond issue funds the district has available for the project.
To address the overrun, Loveland recommended the project be bid with a reduced scope and three eliminated elements be included as bid alternates.
In January, the board asked DLR to proceed with a remodel that would include:
• A multipurpose room that could also serve as the junior high and high school wrestling practice facility.
• An enhanced junior music room with a higher ceiling to improve sound quality, a rehearsal room, new office and storage space.
• Two classrooms.
• Storage space.
• Light renovation of the junior high school weight room.
The work is to start at the end of the school year and be completed in early August.
The most significant of the project's elements removed from the base bid at Loveland's suggestion was a more extensive remodeling of the junior high weight room.
The other bid alternates include wall pads for wresting use in the multipurpose room, which Loveland said the district could possibly purchase more cheaply outside of the project, and sound-buffering ceiling and wall panels.
Removal of those items reduced Loveland's estimate to $653,000, but he said architects' estimates often exceed contractors' actual bids. The hoped-for $600,000 pricetag could cover the base bid and some alternates, he said.
Should the bids exceed $600,000, the board could decrease the amount of contingency funding now earmarked for the project, Loveland said. Another possibility would be to work with a selected contractor to identify cost savings, he said.
Superintendent Paul Dorathy said the board also could reject all bids and start the process again, although that wouldn't allow the project to be completed by the start of school in August.
The construction schedule for the summer project is as tight as its budget. Work is to start May 27, with the successful bidder getting access to the site for measurements May 19, Loveland said. It has a substantial completion date of Aug. 1 and any "punchlist" items to be corrected are to be finished a week later, Loveland said.