Baldwin High School soccer team advances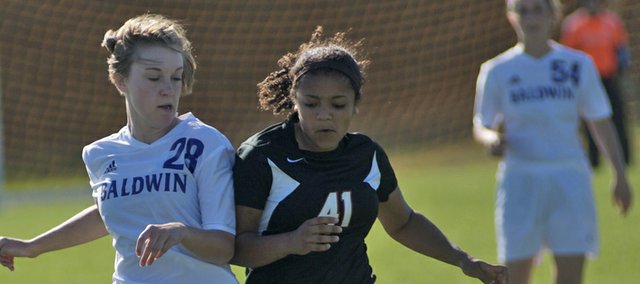 The Baldwin Bulldogs exploded for six second-half goals to earn a 10-0, mercy-rule victory Tuesday against Bishop Ward in the first round of the 1A-4A soccer regionals.
The second-half performance was impressive because Bishop Ward had the wind advantage the last 40 minutes. Baldwin clearly benefited for the breeze at its back in the first half, playing almost the entire 40 minutes in front of the Bishop Ward goal and building a 4-0 half-time lead.
The Bulldogs kept up the offensive pressure in the second half despite Bishop Ward's defensive clearing kics traveling farther down field. Baldwin coach Erryn Kindle told his team after the match that better passing was behind the second-half explosion.
Sophomore Sierra McKinney again provided the Bulldogs offensive punch with a single-game career-high five goals. She ripped the Bishop Ward defense for two goals at 23:39 and 23:16 in the second half to get the final period rout started. A similar explosion around the 21 minute mark in the first half increased Baldwin's lead to 3-0 and ended any notion of a Bishop Ward upset.
"I think we just passed as a team and that opened a lot of opportunities," she said. "I think they got down on themselves a little bit when we got a couple of goals."
Three other Bulldogs also found the net. Senior Jessie Katzer scored in the first half, and sophomores Megann Lawrenz and Erica Petry both scored twice
"It's really nice to have more than one or two players score," McKinney said. "It's good to have a variety."
Lawrenz ended the match at the 4:51 mark of the second half when her goal gave the Bulldogs a 10-0 advantage. The mercy-rule ending got the Bulldogs off the field early on a 90-degree day. Kindle also took his first unit off the field for nearly 10 minutes before sending them back in to end the game.
Baldwin will play the winner of the De Soto-Bishop Seabury match on Thursday.
Kindle assumed heavily favored De Soto would win the match, forcing Baldwin to travel to De Soto for the regional final against a team that owns to victories against the Bulldogs. The most recent of those two victories came Friday in Baldwin's last regular-season match and ended the Bulldogs' six-game winning streak.
In his post-game address to his team, Kindle to the squad to expect a much tougher match but to be confident.
"Either of those games could have gone the other way," Kindle said. "If we play like we did the second-half today, we'll win."