School bonds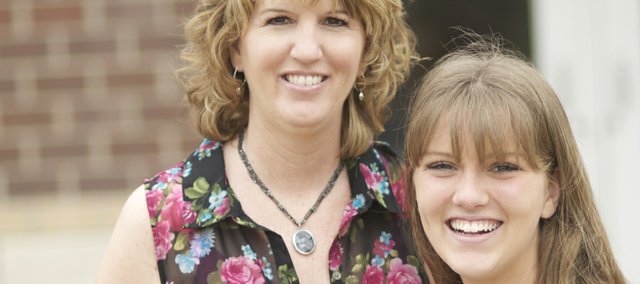 Nelina Dighans is prepared for depressing days this August.
Her youngest daughter Kelsey, who is graduating Saturday from Baldwin High School, will start school that month at Kansas State University in Manhattan. Nelina said she and her husband, Dwane, got a taste of what's ahead when their oldest daughter Audrey started school last August at Pittsburg State.
It was and will be an experience common to many parents. But in Nelina's case, there was the added element to the separation blues. As a para-educator at Baldwin High School, she has spent the past five years going to school with at least one of her daughters and seeing them at the many sporting events she worked.
"They grow up so fast," Nelina said. "I quit working when I had a family. I didn't want to go back to work and miss all their activities. This allowed me to do all that. That's why I chose this job."
The mother may have been excited about that possibility, but Kelsey said she remembers her sister harboring doubts before her freshman year about having her mother at school every day.
In time, Kelsey and Audrey learned the arrangement had many advantages.
"It was very helpful having her there to sign papers, get together on our schedules, give us money for lunches or go to her when teachers had questions," Kelsey said. "It was more convenient for a lot of things."
It also provided conversational fodder for the dinner table, Kelsey said.
"We could talk during the evening about everything that happened at school that day," she said. "She hears one side of it, and I hear another. We'll kind of combine the stories."
There was another advantage to the arrangement after Nelina took the school's college algebra class to brush up on what she learned in her undergraduate days at Montana State and the University of Maryland so that she could better help the students she works with in math.
"She could help us get the answers," Kelsey said. "My dad wasn't much help."
Mother and daughter worked together on one big project, the annual Mardi Gras Day that special education teachers Randi Barnett and Laura Beaulieu put on for Baldwin High School special education students and those from nearby districts.
It was only one of the activities in Kelsey's busy high school career, in which she logged more than 300 community-service hours.
"I like being involved," Kelsey said. "I like to be out and about. I don't like to be home cleaning."
Kelsey plans to keep busy next year, as well. She is attending Kansas State because the school offers degrees in fashion marketing and fashion design. Sealing the deal was a scholarship to be part of the school's rowing team, an opportunity based on her potential rather than experience.
"I've never done it," she said. "I'm excited and scared I'll mess up. I feel like it's going to be fun. I like to do new things."
She's already working on weights to increase her core strength, Kelsey said. That will continue when she arrives at Kansas State in August with workouts in the school's new indoor practice rowing facility.
This summer, Nelina and her two daughters will once again work concessions together at T-Bone and Sporting Kansas City games through a parent organization that provides students money for textbooks and other academic expenses.
Then it will be time for Kelsey and her sister to depart for school, leaving Nelina without a child at Baldwin High School until her son Jayce starts his freshman year in August 2014.
Although she knows she will miss her, Nelina said she was pleased Kelsey was leaving home to go to college.
"Part of the college experience is getting away from home," she said. "She's exploring new opportunities. That's really exciting."