Suspect charged with four counts of murder in Franklin County could face death penalty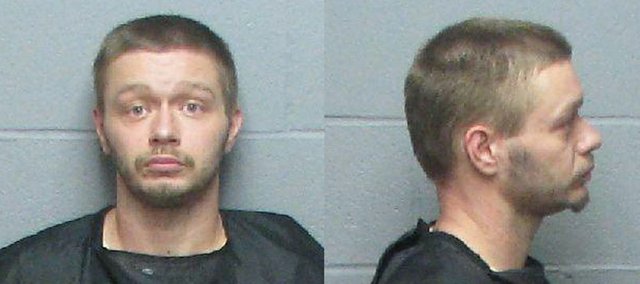 Kyle T. Flack was charged with four counts of first-degree murder Friday in the killings of a toddler, her mother and two men whose bodies were found in rural Ottawa earlier this week. He could face the death penalty if convicted.
Bond in the case was set at $10 million.
The 27-year-old Ottawa man made his first court appearance at the Franklin County courthouse Friday afternoon to hear the charges, which also included a count of rape, a count of criminal possession of a firearm and two counts of capital murder, which opens up the possibility that Flack could face the death penalty if convicted.
Franklin County Attorney Stephen Hunting said his office had not yet decided whether to seek the death penalty in the case.
Flack who served four years in prison for attempted murder in the 2005 shooting of an Ottawa man and is said to have had mental and drug problems, appeared in court Friday wearing an orange- and white-striped prison uniform. He asked the judge "Do I get an attorney?" and was assigned Ron Evans, head of the Kansas Death Penalty Defense Unit in Topeka.
Flack told the judge he was eager to talk to Evans, saying, "The sooner I can see him, the sooner I can wrap this up." His next court appearance, at which he could enter a plea, is scheduled for Monday at 1:30 p.m.
Even as Flack was read the charges, law enforcement officers were combing the area around the murder scene at 3197 Georgia Road, about five miles west of Ottawa, looking for clues and for the body of one of the victims, 18-month-old Lana-Leigh Bailey.
"Mr. Flack has not indicated where Lana is," Hunting said.
The bodies of Lana-Leigh's mother, Kaylie Kathleen Bailey, 21, of Olathe; Bailey's boyfriend, Andrew Adam Stout, 30, of Ottawa; and Steven Eugene White, 31, of Ottawa; were found on the property earlier this week.
Officials continued to decline to say why they believe Lana-Leigh is dead, but they said all the victims had been shot.
The officials offered a bit more detail about when the homicides had occurred, saying they believe that White, who lived at the house with Stout, was killed between April 20 and 28, and that Lana-Leigh, her mother and Stout were all killed at the same time between April 28 and May 6. Bailey also was raped, according to the charges.
The bodies were found earlier this week. Flack, who apparently took Bailey's black Toyota from the house, was detained Wednesday as a "person of interest" in the case. His relationship to the victims is not clear.
Franklin County Sheriff Jeff Richards said that because the Toyota was found in Emporia, investigators are looking for clues between there and Ottawa, about 55 miles away.
Richards said more than 150 law enforcement officers are working the case, including investigators from the KBI, the Federal Bureau of Investigation and area police departments.
Searchers on horseback could been seen Friday on either side of Georgia Road, where the Ottawa property is located, and along Highway 68, which goes past the property. Officials have also used dogs and aircraft in the search over the past couple of days.
At one point Friday afternoon, several police vehicles with small boats on trailers were seen heading north on Florida Road, just west of Georgia Road, but it was unclear where they were headed. There aren't many significant bodies of water in the area, and it was unclear why the searchers might be using boats.