Harris family to have benefit run for Boston Marathon bombing victims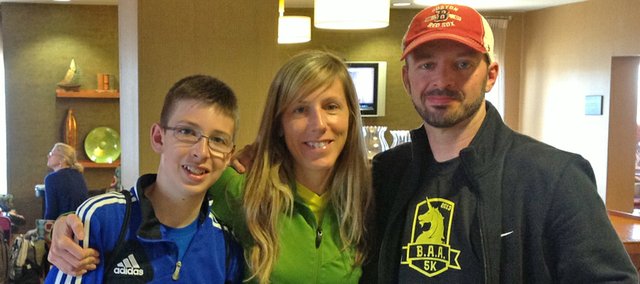 Kit and Sarah Harris will repay acts of kindness they experienced at last month's Boston Marathon with a benefit run Saturday at the Baldwin City Golf Course.
"The Boston Marathon was a very exciting turned emotional experience for our family," Kit said "In the midst of all the tragedy, we saw numerous acts of kindness, and even experienced many ourselves. We wanted to give back for this help and support the relief efforts. So we decided to sponsor this event with 100 percent of the proceeds going to the cause."
Same-day registration starts at 8 a.m. and the first race of the event will start at 9 a.m. at the golf course, 1500 South St, after a performance of the National Anthem by a member of the Baldwin High School choir member.
There will be three events at the run: The USA 5K with five age division, the Paul Revere 1-mile kids run with four age divisions, and the Sam Adams 1-mile walk. There will be awards, courtesy of Hasty Awards of Ottawa, given to the top-two finishers in each age division in the two running events in the male and female categories.
The entry fee is $20. All proceeds will go to One Fund Boston, a relief fund for victims and first responders of the Boston Marathon bombings.
Registration for the event is available online at raceit.com/Register/?event=20884 or at the event. All those registering before the event will receive a running shirt provided by Shirt Shack of Baldwin City. The shirts will be provided to those registering at the event while supplies last.