Ottawa homicide victims identified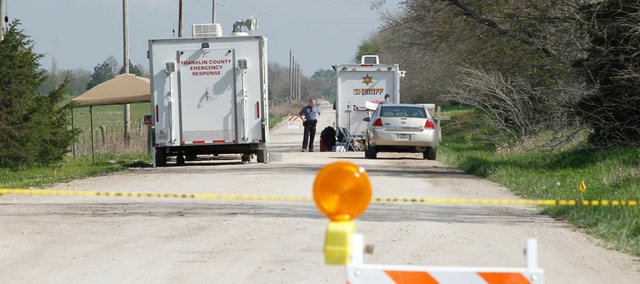 The Franklin County Sheriff's Office has identified the three victims of a triple homicide in rural Ottawa that was discovered Monday:
• Kaylie Bailey, 22, Olathe. An Ottawa native, formerly Kaylie Smith.
• Andrew Adam Stout, 30, Ottawa.
• Steven Eugene White, 31, Ottawa.
Law enforcement agencies are also searching for 18-month-old Lana Bailey, daughter of Kaylie Bailey, who was reported missing along with her mother. However, an Amber Alert has not been issued.
The sheriff's office said no arrests have been made, but one person is being questioned. That person has previously been identified as 27-year-old Kyle T. Flack, Ottawa.
"We do not have anyone in custody in connection with this homicide," Sheriff Jeff Richards said. "Our priority is finding Lana."
Asked whether the sheriff's office believed the child was still alive, Richards said "We have no indication she is not."
The Kansas Bureau of Investigation said it will not issue a full Amber Alert because the Franklin County Sheriff's Office did not request it until 3:43 p.m. today. By that point, according to the KBI, images of the missing child had already been widely circulated.
However, all other measures taken in the case of an Amber Alert are in effect, the KBI said.
Lana Bailey was last seen alive on April 28, at 3197 Georgia Road, where the bodies were found Monday and Tuesday. She was reported missing along with her mother on May 3. Friends said Bailey was known to spend time at the house with Andrew Stout, who reportedly had lived there for years.
Stout and White, the third victim, were both living at the house, according to the sheriff's office. Authorities have not determined a cause of death for any of the three victims.
Police responding to a call about a dead body at a rural Ottawa home on Monday found three frightened young people pointing to a garage, where a bloated female body lay buried under rubbish.
The body was wrapped in a blue tarp and hidden under clothing, with a cinder block resting on its head. Outside, a trash bag containing a baby bottle, a child's sleeping bag and clothing spilled open on the ground.
The discovery was the beginning of a what has become a triple homicide investigation in Ottawa that involves a missing 18-month-old girl, ties to several ex-cons, and a previous local murder.
Speculation is heavy, but facts are in short supply two days into the case, as media members camped out Wednesday morning in front of the sheriff's office, waiting for the few details that have trickled in.
The Franklin County Sheriff's Office issued a news release Wednesday morning, confirming the following:
• Early Wednesday morning, Emporia police located a 2007 Toyota Corolla and a "person of interest" in the case, Kyle T. Flack, 27. Flack, who spent time in prison for a 2005 attempted murder in Franklin County, is being questioned, but police have not said whether Flack was arrested.
• None of the three victims — two men and one woman — found at a property at 3197 Georgia Road have been positively identified. A cause of death has also not been determined, although autopsies are under way.
• Olathe woman Kaylie Bailey, 22, and her 18-month-old daughter, Lana, were reported missing May 1. The Kansas City Star is reporting that police have notified Bailey's family that she was among the three victims. Bailey's daughter, however, has not been found, and police have not issued an Amber Alert for her. Yesterday, Bailey's friends and family started a Facebook page, "Find Lana and Kaylie Bailey" to help locate the young child.
• Police say more information will be released at 4 p.m. Wednesday.
Dozens of police personnel continue to work the scene at the property, where two bodies were discovered Monday. A third body was found Tuesday morning.
Bailey and her daughter were reportedly last seen at the home, where 26-year-old Ottawa man Andrew A. Stout lives. Stout's brother and other family members said that Stout, who is reportedly dating Bailey, has been missing since last week.
Bailey, an Ottawa native and Ottawa High School graduate, had worked at First Response Inc., a private security firm based in Mission, as well as at the Ottawa American Eagle Outfitters, where Stout also had worked, according to a neighbor. Friends say Bailey may have gone to the Ottawa house where the bodies were found to drop her daughter off with Stout to baby sit.
Stout's mother and brother own the property where the bodies were found, but it's unclear who lived at the home or how Flack may be connected to Stout and Bailey.
Family members of a third man, Steve White, had spoken to several media outlets, saying he lived at the home and has also been missing since last week.
Police checked the property Sunday, after Stout's childhood friend Corey Schlotzhauer — looking for his missing friend — visited the property and noticed a strong smell.
"I know, if it's that strong it's not an animal," Schlotzhauer said. "And it's not trash."
However, police did not find any bodies after that first call by Schlotzauer, who returned Monday with two friends and discovered a bloated female body in the garage.
The case features other numerous ties to criminal activities, though it's not clear how, or if, any of it's related to the current case.
Kailey Bailey married 25-year-old Shawn Patrick Bailey in 2011, and divorced in March. Shawn, the father of the missing 18-month-old, has been in a Missouri jail since January following a burglary arrest in Lebanon, Mo. Shawn was arrested with relative Cyle Bailey, 23, who had been imprisoned with Shawn for their role in a 2008 burglary in Franklin County.
Cyle Bailey had initially been sought by police Tuesday evening as a "person of interest." However, police canceled that request after contacting Cyle, who called a Kansas City area television station Tuesday.
Stout, meanwhile, was the fiance of an Ottawa woman murdered in 2009. Mark Aaron Sherman was convicted of shooting and killing Stout's fiancee, Sky Nicole Cadarette, 19. Stout's sister, Amberly Stout, also had two children with Sherman, who was paroled in January.