Not the same old song and dance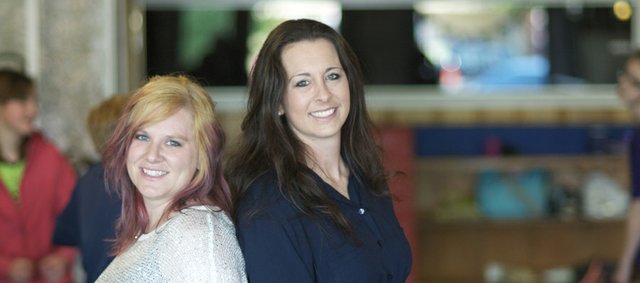 Amy Potterton's impending departure from Baldwin City is a bit less painful now that the survival of the Baldwin City Children's Choir she founded is assured.
Potterton and her husband, Matthew, are moving later this month to Johnson City, Tenn., where he will become the director of choir activities at East Tennessee State University after holding the same position at Baker University the past three years.
Potterton shared her husband's passion for vocal music and founded the Baldwin City Children's Choir three years ago. It thrived under her direction, both in quantity — it had 34 members this year — and quality. Two years ago, the choir won a gold medal at a St. Louis festival, an achievement that earned it an invitation last year to perform in New York City.
Potterton said she and her husband loved Baldwin City, but Matthew couldn't turn down the chance to advance his career. One of her biggest concerns about the move was removed with the survival of the children's choir she founded, she said.
"It's one of my biggest joys that children are going to be able to continue to sing," Potterton said. "It's an extension of what happens in school. I wanted to give children another opportunity to sing. I'm thrilled it's going to continue and children will have the opportunity."
Potterton's departure will bring change to the children's choir.
Kelley Bethell-Smith, who was the choir's choreographer the last three years, will replace Potterton as its director. The choir's organizational structure will also change.
Since its founding, the children's choir has been a 501(c)(3) non-profit organization dependent on Potterton and parent volunteers to take care of logistical and organizational functions.
With Potterton's departure, the children's choir will become a part of Baldwin Academy of Dance, which will now be known as the Baldwin Academy of Dance and Voice.
Bethell-Smith, who for five years has led the dance academy's toddler dance class, said she and Academy of Dance owner Courtney Williams developed the idea of folding the children's choir into the academy. They then won the approval for the change from the choir's board with Potterton's endorsement.
Potterton said the new arrangement would free Bethell-Smith of the administrative duties that occupied much of her time as director.
"I did a lot secretarial work myself," she said. "I had parent help, but a lot I had to do. With her having a paid secretary through the dance academy, it will give her time to focus on music.
"When I knew Matt and I were leaving, I gave a lot of thought to who should be the next director. I can't think of anyone better than Kelley. I've gotten to know Kelley the past three years. Not only is she a choreographer, but she's a wonderful vocalist herself."
Bethell-Smith said she would be director of the academy's voice department when the children's choir enrolls in September. The academy's secretary will give her more time to focus on that position and free parents from support chores, she said.
The new arrangement and the conversion of the academy's front room into space for choir rehearsals also would simplify schedules for parents with children in both the choir and dance classes, Bethell-Smith said.
"There's a lot of children who want to do both," she said. "This will make that a lot more doable. Schedules will be coordinated, and everything will be at one place."
Williams, who has owned the dance academy at 723 Eighth Street the past five years and worked there for 15, said the merger also would create new opportunities.
"In Kansas City and a lot of other areas, it's common to have vocal and dance together," Williams said. "In a lot of competitions we go to, they have both. This will allows us to be part of both competitions.
"It's really a natural fit to join together. We're lucky to have Kelley so we can."
Bethell-Smith said her goal was give the community more opportunities to hear the young singers.
"We're going to be doing a lot of singing right here in the community," she said. "We want to be part of the Christmas parade and sing at the rehabilitation center."
The plan is for the choir to continue to take festival trips every two years, Bethell-Smith said. Although tuition and fees will pay for the choir's day-to-day operation, the 501(c)(3) will be maintained as a fundraising vehicle for choir trips and other special needs, she said.
"It's sad the Pottertons are leaving," she said. "But at the same time, since there's nothing we could do about that, the children's choir board thought it would be logical to combine with the dance academy.
"I think it should be really good for the children, parents and Baldwin."