Missing Olathe woman last seen at Ottawa triple-homicide scene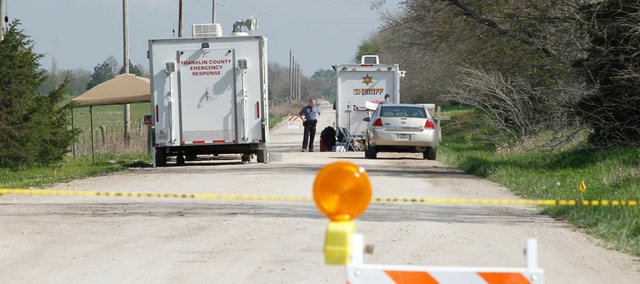 A missing 22-year-old Olathe woman was last seen at a house in rural Ottawa where Franklin County law enforcement is investigating a triple homicide, according to a statement from the Franklin County Sheriff's Office Wednesday morning.
Kailey Bailey and her 18-month-old daughter, Lana, were reported missing in Olathe May 3, and relatives fear she is among the victims on the property. The bodies of two men and a woman have been found on the property, about five miles west of Ottawa, but investigators have not positively identified them.
Meanwhile, a 27-year-old Ottawa man wanted for questioning yesterday in connection with the homicide is being interviewed after his arrest Tuesday night in Emporia. Kyle T. Flack was arrested by Emporia police, who also located the 2007 Toyota Carolla that Bailey and her daughter were last seen traveling in.
The first two bodies were found Monday on the property at 3197 Georgia Road, about five miles west of Ottawa. Franklin County sheriff's deputies were called to the house there by three visitors who reported a bad smell and found a body in the home's garage. Kortni McGill, Ottawa, was one of the visitors, who were acquaintances of the homes occupants, and said she found the female victim in the garage of the home, covered in a blue tarp with a cinder block on top of the head.
The visitors had also visited the home on Sunday, and called law enforcement officers to check on house because of the bad smell, McGill said. But the officers did not find any bodies until they returned Monday.
The third victim was found inside the home Tuesday morning about 8 a.m. Trained dogs from Kansas Search and Rescue have been brought to the property and have not located any more bodies, according to the sheriff's office. Coroners began autopsies on the three victims late Tuesday, but have not identified the bodies or determined a cause of death for any of them.
Kyle T. Flack was not sought as a suspect, the sheriff's office said, but someone investigators wanted to speak with. Flack served four years in prison for the 2005 shooting of Ottawa resident Steven Dale Free, 47, who was found in his front yard with multiple small-caliber gunshot wounds. He was convicted in Franklin County of attempted second-degree murder and paroled in 2009.
Anyone with information about the case is asked to call 888-311-TIPS, or send a text to 274637. Begin with the keyword "franklin" or call the Franklin County Sheriff's Office at 785-242-3800.
The sheriff's office has said any new information will be released at 4 p.m. today.