Maple leaf statues to adorn downtown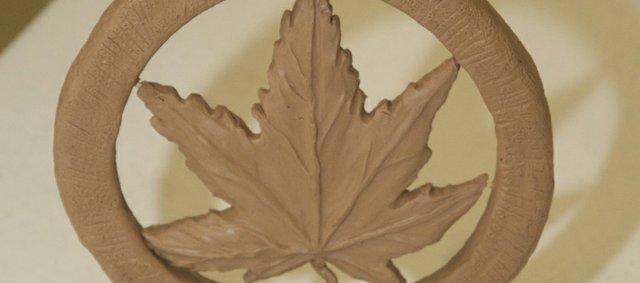 Before the end of the summer, two maple leaf statues will bracket Baldwin City's primary downtown intersection.
It was announced at Monday's Baldwin City Council meeting, members of the Kansas Sculptors Association will carve the two stone sculptures at a downtown workshop in the early summer.
At the request of the Lumberyard Arts Center board, the council last year approved a $10,000 allocation to bring sculptors association members to the city for a workshop. As part of that arrangement, the sculptors agreed to complete a piece of public art for the community.
The arts center board then invited members of the community to submit ideas for a statue that would tell Baldwin City's story. Among the ideas that received the council's thumbs up was a maple leaf in a circle.
City Councilman Shane Starkey said that design was shared with sculptors association members, who said the maple leaf was possible but the outside circle would soon break. At their suggestion, a maple leaf carving will be tilted backward with its stem carved so that its shadow would trace across the leaf's five sections, which would each be adorned with an icon of an historical era. Those would be the area's prehistory, the Santa Fe Trail, the Battle of Black Jack, the founding of Baker University and the city's future.
It also was proposed that each leaf section would have an electronic device that could communicate the story of each icon to smart phones, Starkey said.
That work, which will be about 4 feet wide and 6 feet tall, will be placed on the southwest corner of High and Eighth streets. Complimenting it will be a smaller work on the northeast corner of the intersection.
Starkey said the smaller work would be circle with a maple leaf chiseled out of its center.
Lumberyard Arts Center President Tony Brown said the workshop would be in the empty lot between the Post Office and Lumberyard Arts Center, sometime after the Baldwin City Community Theater's outdoor musical finishes its run at that site in June.
City Administrator Chris Lowe said the sculptors would share their skills with residents at the workshop as they worked to complete the community pieces. Aspiring sculptors would be invited to work with stones available at the workshop, he said.
But Brown said residents wouldn't have to take up hammer and chisel to enjoy the workshop.
"I'm looking forward to it because I want to see the artists turn that stone into a piece of art," he said.