Bulldogs have split personality in twin bills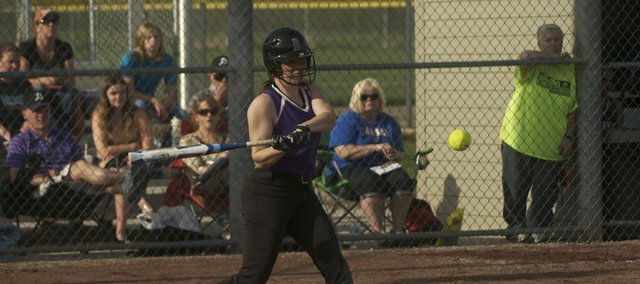 The Baldwin Bulldog softball team had a split personality in Monday and Tuesday doubleheaders.
The girls split a doubleheader Monday against Tonganoxie and did so again Tuesday against Burlingame. In both twin bills, the Bulldogs turned on the offense in victory and struggled to score runs in defeat.
Against visiting Tonganoxie, the Bulldogs lost the first game, 6-5, before coming back to win the second game, 18-9.
On Tuesday, Baldwin cranked out nine hits in a five-inning, 13-3 first-game victory and fell in the nightcap, 7-4.
Coach Chad Scoby said the solid contact and line drives the Bulldogs hit in game one turned to infield pop outs and outfield fly balls in the second game.
"I told the girls it's a crazy game," he said. "The first game we were all on it, and the second game we struggling to get any hits. We were making contact, but we just weren't getting any down."
Hailey Cope had four hits in the first game with a double and a triple and had two runs batted in. Sierra Hall had two hits and a game-high three RBIs. Hall followed up with a three hits in the nightcap. Cope had a double and single in the second game with two RBIs. Kylee Bremer drove in the other Baldwin run with a double.
Getting the game-one win Tuesday was Emily England, who gave up three hits in the game's five innings. Kassidie Burton pitched a complete game in losing the second game.

The girls collected 22 hits in winning the second game Monday. Emily Simpson had four hits, including a triple, and knocked home four runs. Kaitlin Jorgensen had a game-high five RBIs on three hits.
"The second game, we hit the ball probably better than we've hit it for a while," Scoby said.
Baldwin needed one sweep to improve its seeding in next week's regional play. The Bulldogs are now 9-6, for the season. The regional tournament will be played in Ottawa.