Baldwin bats warm up with weather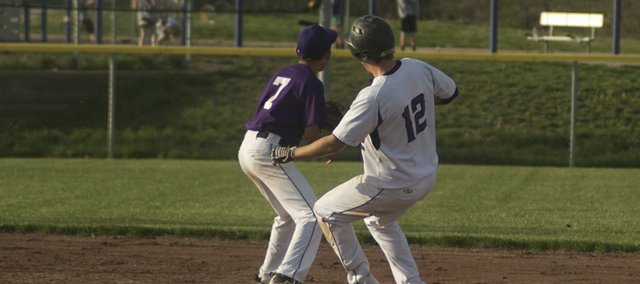 The Bulldogs' bats warmed up with the weather Tuesday, helping the team sweep visiting Burlingame, 15-0 and 20-5.
The doubleheader against the 2A school was supposed to be Baldwin High School's season opener and give coach Brian Turk's young team a boost of confidence before starting tough Frontier League play. However, the cold, wet spring forced the game to be rescheduled twice.
Baldwin got hitting up and down its lineup in the two run-rule wins.
"Tonight, we did a better job of hitting the ball hard," Turk said. "Burlingame was very low on pitching, as is everybody with all the make-up games."
In the first game, Ben Growcock had a single, two doubles and five RBIs, and Colton Stark had a double, three singles and five RBIs.
Tyler Cawley picked up the shutout victory in game one, giving up only one hit in the four-inning contest.
Growcock earned the win in the nightcap, pitching all four innings and giving up seven hits.
On Monday, the Bulldogs were on the wrong side of a doubleheader sweep as the visiting, state-ranked Perry Lecompton Kaws took two from the Bulldogs, 13-3 and 4-3.
The second game, in which the Kaws scored twice in the sixth and again in the seventh, followed an all-too familiar script of Baldwin of giving away a lead, and eventually a victory, in the sixth inning.
"There's been five games that have been very winnable games, but we just couldn't seal the deal," Turk said.
Hunter Young gave the Bulldogs another solid start in the nightcap despite taking the loss. Cawley, Stark and Ben Brungardt each knocked in a run.
The coach said the team was improving. The defense has been good, despite breakdowns in the first game against Perry-Lecompton, and pitching has been solid. What the teams needs as it looks ahead to regional play Monday is offense.
"We'll get a good at bat and then a couple poor at bats and then another quality at bat, but not enough to string runs together," Turk said. "We're leaving a lot of runners on base."
Thursday's games at Paola will not figure into the regional seedings, which were determined Wednesday. With that in mind, the teams could agree to play only one of the two scheduled games, Turk said.
Bulldogs will have home field advantage in regional play as the tournament will be play at the Bullpup Drive field.