Rainbow Experience Preschool marking 50th year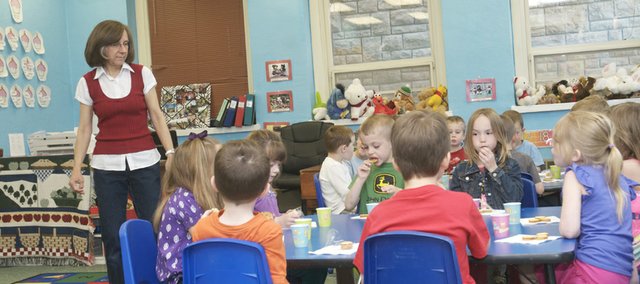 There is something about the Rainbow Experience Preschool that encourages longevity.
The preschool is celebrating its golden anniversary this year, meaning the first students to walk through it doors are now 50-plus.
"We've actually had parents who were students here," said Rainbow director Erica Livingston. "That's kind of neat."
Assistant teacher Linda Sledd has been at Rainbow for 17 years, not long enough to have taught her 38-year-old daughter or 40-year-old son when they were at the preschool but long enough to form a bond with a generation of Baldwin City children.
"I just love working with children," she said. "The kids are at an age they just love to learn, and they tell you the most amazing things they are going to do."
Sledd shares the preschool's kindergarten readiness class of 4- and 5-year-old students, called Teddy Bears, with lead teacher Sue Demarest, who has a degree in elementary education and once taught kindergarten in the Baldwin school district. With 10 years at the school, she said working with the young students was addicting.
"I love getting them excited about reading and learning," she said. "They haven't learned yet that learning can be difficult. For them, learning is fun."
In addition to the Teddy Bears, the preschool has a beginners' class for students 2 1/2 to 3 1/2 years of age, a Busy Bees class for 3- to 4-year-old students and Dragon Flies class for those 3 to 5 years old. The beginners' class is Tuesdays and Thursdays and the other classes on Mondays, Wednesdays and Fridays.
Classes are three hours long. Currently, all are in the morning, but the preschool has added an afternoon class when there was enough demand, Livingston said.
The preschool's goal was to produce independent, self-confident, enthusiastic learners, Livingston said. Having long-term teachers like Demarest, Sledd and the preschool's other lead teacher of 10 years, Dana Clem, helps in realizing those goals, she said.
The biggest misunderstanding about the preschool is that it is run by the Baldwin school district, Livingston said. Part of that misunderstanding could be from its location in the basement of the District Office on Chapel Street, she said.
"We're our own non-profit organization," she said. "We have a board of parents."
The preschool pays the bill through tuition and a series of benefits. One, the annual Fun Run 5K, will be Saturday at the Baldwin City Golf Course. Registration starts at 7 a.m. and the run at 8 a.m.
Although not affiliated with the school district, the preschool has aligned it curriculum with that of the district, Demarest said.
"We use animated literacy and stress-free learning," she said. "We do four hours a week on letters. When we had the letter P, we had popcorn, made peanut butter sandwiches and played the Puffy Pig game."
One cloud on the preschool's horizon is the district's desire to sell the District Office. If that happened, the preschool's continued presence at its home for the past 10 years would be in the hands of the new owner.
"We're here until otherwise informed," Livingston said. "We're kind of looking around so we'll have other options just in case."