Couple see consignment/thrift store as gift to community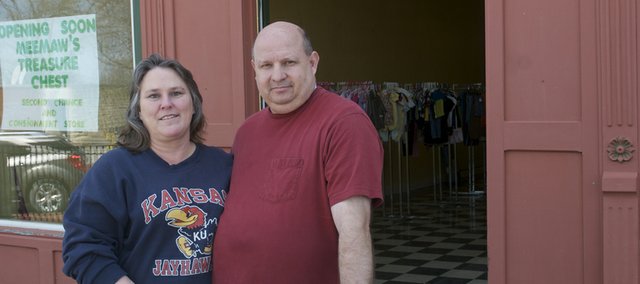 Mike and Shirley Logan view the store they are opening downtown as a way to give back to their adopted hometown.
"We've been living here three years, and Baldwin has the friendliest people I've ever been around," Mike said. "We wanted to give people a chance to buy quality merchandise at a reasonable price so they could make their dollars go further and maybe spend some more downtown."
The couple is opening Meemaw's Treasure Chest at 713 High Street. It continues a downtown trend of antique store and consignment shop.
Although they weren't aware of the other consignment shops in Baldwin City, the Logans said shoppers at such stores tend to like destinations where their shopping opportunities were multiplied by several stores. That was true in their case, Mike said.
"We both like shopping at thrift and second-hand stores and I had access to some storage lockers coming open, so we decided to open our own," he said. "Now the adventure begins."
On Thursday, the couple was hanging used clothing on racks on the storefront's main floor. But the Logans said they and consignment retailers would fill two floors of the building with much more.
"It'll be something of everything — crafts, toys appliances, furniture," Mike said. "Upstairs, there will be more clothing. We have one crafter who does wonderful stained glass and jewelry."
The couple plans to open the store Saturday. They will have coffee for customers and drawings for prizes, a feature they will continue on a monthly basis.
The store's hours will be 9 a.m. to 6 p.m. Wednesday through Saturday.