Voters to decide board/city seats Tuesday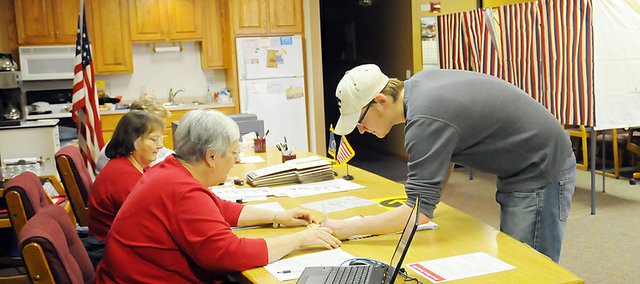 Baldwin City residents will decide Tuesday who will represent them on the school board and in City Hall.
Three polling places will be open from 7 a.m. to 7 p.m. Tuesday in the city, said deputy Douglas County Clerk Benjamin Lampe. Those residents of Precinct 62 of Baldwin City south of High Street and west of Lawrence Street will vote at the American Legion Building, 807 High St. The polling site for Precinct 60 of Baldwin City northwest of the intersection of Sixth and High streets is the Baldwin City Fire Department, 610 High St. Those living in Precinct 61 of that part of Baldwin City northeast of the Sixth and High street intersection vote at Baldwin Junior High School, 400 Eisenhower Road.
Polling sites at Vinland United Methodist Church and the Willow Springs Township Hall will be open for voting in USD 348 Board of Education elections.
Baldwin City voters will elect a new mayor from a candidate list of three current or former City Council members: Jason Mock, Marilyn Pearse and Bonnie Plumberg. Also to be elected are two council members from the slate of Christi Darnell, Kathy Gerstner and Michael Paulick. Voters can vote for two candidates and the two with the most votes will be elected to the council.
Four Baldwin USD 348 Board of Education positions will be on the ballot, but there will only be one contested race. Sheryl Gill is running unopposed for the board's at-large position, and Nicole Tiller has no opponent for the District 3, Position 5 seat.
In addition, no candidate filed for the District 3, Position 6 board seat after Ande Parks chose not to run for another term. At least two residents, Ivan Huntoon and Kathy Davis, said they were putting their names forward as write-in candidates for the seat.
Voters districtwide will decide between Toby Ebel and Gregory Kruger in the contest for the board's District 3, Position 4 seat.
Voters can cast advance ballots from 9 a.m. to 1 p.m. Saturday at the Baldwin City Fire Station, Lampe said.
All advance ballots must be returned by 7 p.m. Tuesday to the Douglas County Courthouse in Lawrence to be counted, Lampe said. There is a drop box just south of the Courthouse, which will be checked throughout the day Tuesday until the polls close at 7 p.m., he said.
Lampe said the clerk's office won't start counting write-in votes for the Baldwin USD 348 District 3, Position 6 seat until Wednesday. Because no one filed for the position, the eligible resident with the most write-in votes will be offered the seat.
"We'll pull those ballots with write-ins Tuesday, but we won't have a chance to tabulate them," he said. "We'll start working on that the next day. It's a much slower process."