Spring double-up ending senior's busy year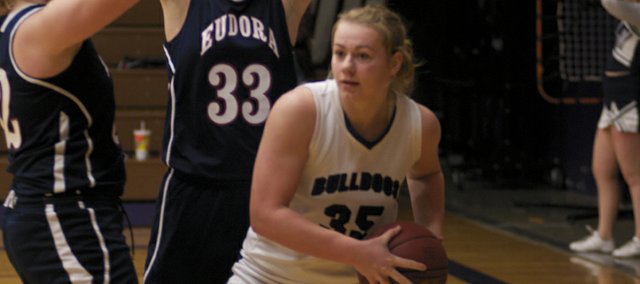 Jessie Katzer was in the gym Tuesday doing drills with the other throwers on the Baldwin High School track and field team.
Had it not been for the weekend's snowstorm, the senior would have been starting for the Bulldog girls soccer team in its season-opening match against Lawrence. Katzer is ending her high school athletic career by once again participating in the two spring sports after being on the school's volleyball team in the fall and basketball team in the winter.
"My planner rules my life," she said.
It's a schedule that might have parents concerned, but Katzer said she had the full support of her parents.
"They think it's good for me, actually, because it teaches me time management" she said.
She's not the only Baldwin athlete taking on a four-sport schedule. Junior Chad Berg is on the track and baseball teams this spring after being on the football and basketball teams.
In addition, Katzer is a member of the school's National Honor Society, on student council and in numerous clubs.
"I was in the fall musical," she said. "I would like to be in the spring play but I don't have enough time.
"My goal was to be involved and have no regrets. I didn't want to look back when I went to college and say, 'I wish I had done that when I had a chance.'"
The spring double-up can get complicated and will get worse with this week's rash of weather-related cancellations, Katzer said, but she is guided by her decision that track comes first. Last year, she didn't miss a track meet but did have to skip a couple of soccer games.
Despite that decision, soccer is her favorite sport, Katzer said. Volleyball, she said with a laugh, falls behind basketball and track. That lines up with her skills in the sports. She was a two-year started on the basketball team, but a reserve in volleyball.
Basketball provided the biggest thrill of her high school athletic career, to date.
"It was when we played Ottawa in sub-state last year," she said. "They were really good and we weren't supposed to give them much of a game. But our student body showed up and really got behind us. We ended up losing by five, but we did so well it felt like we won."
Another highlight of Katzer's career came last year when she qualified for state with a first-place finish in the javelin at the regional meet.
"My goals this year is to qualify for state in the shot put and javelin and get personal records in both," she said.
Her best throws last year were 113 feet in the javelin and 36 feet in the shot put.
Also on Katzer's mind this busy spring is a decision on her future. She recently visiting Fort Hays State University, which has offered her a track scholarship, and has a visit lined up to Truman State (Mo.) University, which is offering a soccer scholarship.
The four-sport competitor said sports would continue to be part of her life in college and beyond.
"I'll always be involved in something or coaching," Katzer said. "I'd like to coach little kids soccer."