Snow wipes out Baldwin High School's spring sports openings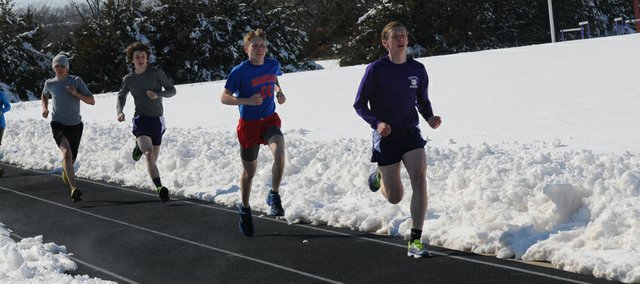 The weekend's early spring snowstorm whipped out the opening of Baldwin High School spring sports.
The 14-team Baldwin High School track meet was called off for Thursday with snow still covering much of the event surfaces at Liston Stadium.
The meet was rescheduled for Monday, But the forecast for that day is for temperatures near 40 degrees with rain and snow. Activities director Gary Stevanus said conditions would be monitored a decision made about going ahead with the meet based on the safety of student athletes.
Postponed because of the still unmelted snow were the girls junior varsity and varsity soccer matches Tuesday at Lawrence, the junior varsity and varsity home baseball and softball games against Burlingame. The soccer games will be played Monday, April 8, with the varsity game starting at 6 p.m. following a shortened JV game. The baseball games have been rescheduled for April 11 and the softball game April 18.
The soccer teams will have to wait longer to get on the field as Wednesday's home-opener for both the junior varsity and varsity against Basehor-Linwood were also postponed. Those matches will be played May 9.
Wednesday's junior varsity softball game against at Mill Valley was also postpones with the make-up date to be announced.
The JV and varsity baseball and softball games scheduled for Thursday at De Soto have been rescheduled for Friday, May 3.