Douglas County state's 9th healthiest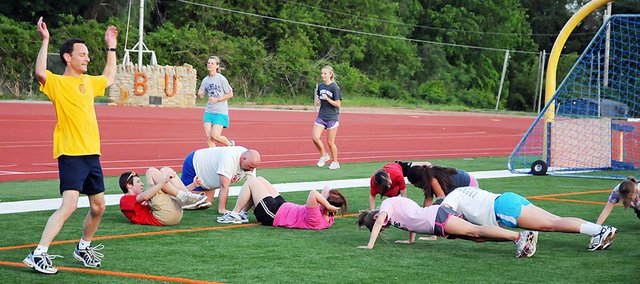 Douglas County is a top 10 county in the state of Kansas when it comes to being healthy, according to a new nationwide report.
Douglas County is the ninth healthiest county in the state by one measure and the seventh healthiest by another, according to a report released Wednesday by the Robert Wood Johnson Foundation and its partners.
"The report continues to show us that where we live matters to our health," said Dan Partridge, director of the Lawrence-Douglas County Health Department.
Douglas County ranks ninth in the category of health outcomes, which basically measures mortality rates — how long we live — and morbidity — which measures how healthy we feel while we're alive.
In last year's report, Douglas County ranked seventh.
The county showed improvement though in the part of the study that measures several types of behaviors or conditions that theoretically should impact the health of residents. That includes factors such as alcohol and tobacco use, violent crime rates, obesity rates, air-quality measurements and a host of other factors.
In that ranking, the county checks in at No. 7 in the state, up from No. 13 a year ago.
The report — which ranked 102 of the state's 105 counties — also provided rankings for more specific criteria. Partridge said two categories stood out as areas the county had made improvements in: access to healthy foods and preventable hospitable stays.
Partridge said schools and workplaces have been doing more recently to promote gardens and have been adopting policies to ensure healthier meals and vending machine options. The county's ranking in the area — which also includes measurements of air and water quality — increased to No. 23, up from 98 a year ago.
Other Douglas County rankings in the report included:
• Tobacco use: No. 35
• Diet and exercise: No. 3
• Alcohol use (measured by the rate of "excessive drinking" as measured by the Centers for Disease Control and Prevention and motor vehicle crash death rates): No. 52
• Sexual activity (measured by teen birth rates and chlamydia incidence rates): No. 54
• Access to health care: No. 30
• Quality of health care: No. 5
• Education: No. 3
• Employment rates: No. 65
• Income (as measured by the percentage of children living in poverty): No. 11
• Family and social support (measured, in part, by the percent of children living in single-parent households): No. 50
• Community safety (measured by violent crime rates): No. 89
Partridge said one area of concern is the health behaviors category which measures a variety of activities such as smoking, diet, exercise, alcohol use and sexual activity. Douglas County still ranks high in the category, but not as high as it once did. The county's ranking fell to No. 8, down from No. 6 a year ago.
"While many residents think of Lawrence as being a healthy community, we have room for improvement," Partridge said.
According to the study, the five healthiest counties in the state are: Johnson, Riley, Stevens, Pottawatomie and Ellis counties.
The least healthy are: Elk, Chautauqua; Wyandotte; Cherokee; and Logan counties.
The full report can be viewed at www.countyhealthrankings.org