Baldwin school board sells closed Marion Springs Elementary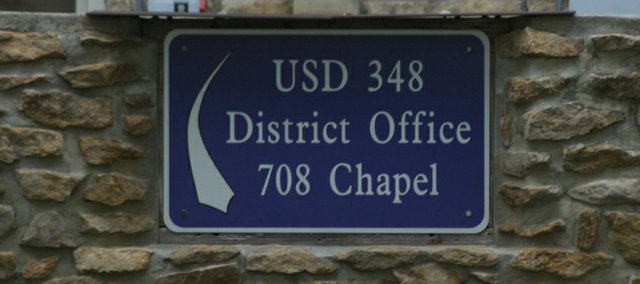 The Baldwin USD 348 Board of Education on Monday agreed to sell the closed Marion Spring Elementary School for $90,0000 to a three-person partnership.
Buying the school, which closed in May 2011, was GOF LLC, a local partnership of Kyle Guenther, Nate Floersch and Luke Oehlert.
The sale includes the 17,865-square-foot building and about 8 acres. The school in Worden was built in 1962 and expanded in 1990 and served as the elementary school for the rural west side of the district.
Oehlert said Tuesday the partners did not have plans for the building but thought it had a lot of potential.
"We're hopeful someone might come forward to run it as an event center with a little more knowledge of that business than the three guys who bought the building," he said. "The main thing is we wanted to get it purchased and see what options we had."
School Board President Nick Harris said the property was sold "as is" with no stipulations other than it cannot be used as a school.
"I think $90,000 is a great price," he said. "I think most on the board were ready to settle for $80,000."
There has been recent interest in the building. Superintendent Paul Dorathy told the board in December a married couple toured the building that month and he anticipated giving another tour. But he said an obstacle to selling the school to private owners rather than a non-profit was the $800,000 appraised value the Douglas County Appraiser's Office placed on the old school.
Oehlert said the partners talked with the appraiser's office about the issue. Because the building went unsold for so long, its actual sale price would have to be considered in its appraisal, he said.
The money from the sale will be deposited in the school's capital outlay fund, where it could help reduce that fund's mill levy in the 2013-2014 budget. Last year, 1 mill provided the district about $74,000 in revenue. A mill is $1 in taxes for every $1,000 in property valuation.
The board last year put Marion Springs on the list of district properties for sale with the District Office at 718 Chapel Street and the South Gym at the corner of Chapel and Eighth streets. The board sought to sell the closed school for added revenue in a time of tight budgets and to remove the expense of its maintenance.
In June 2011, the district sold the old elementary school east of the District Office to Lighthouse Baptist Church for $200,000.
Dorathy said the district has no offers on the two remaining Chapel Street properties.