Baker origins trace to community's earliest days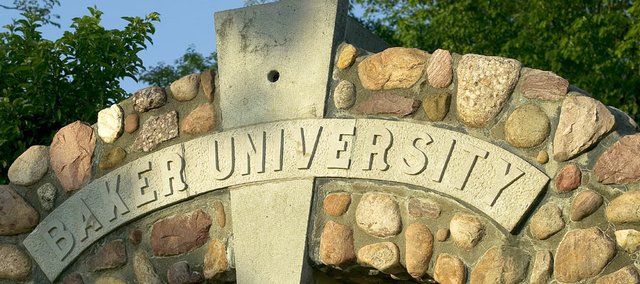 The wide spot on the Santa Fe Trail that was to become Baldwin City attracted European farmers and business entrepreneurs who believed in education as a necessary resource for the future.
In 1858, in a log cabin at Palmyra, some members of the Methodist Episcopal Church met and conceived a plan for chartering a university, naming it Baker University after Osman Cleander Baker, the first bishop in the region. It was the first and only university in the territory. A one-mile tract of land in Palmyra was bought and building lots were sold to raise funds for the school.
Baker University was very much tied to the church, and for the first 122 years had only ordained ministers as presidents. The church's influence was felt as deeds for building lots stated that the title of the property would revert to the church if alcohol were made or sold on the premises. That clause stills stands in those deeds.
A small two-story stone building was erected, called the College Building (later Old Castle), which through the years became three stories and is now a museum housing Kansas, Methodist and Baker artifacts. A replica of Kibbee cabin, where the Methodists met to plan for Baker, stands next to Old Castle on the campus and represents the early history of Baker and the Palymra Post Office.
The earliest students, mostly high school scholars, enrolled in the fall of 1858, and the first baccalaureate degrees were awarded 12 years later in 1866 just after the close of the Civil War.
The way the founders and early instructors worked was to, without delay, provide the higher education they believed essential to a civilized land as they swiftly gathered supporters, raised funds, provided jobs, and as my records show, were good customers at the lumberyard. The first students were enrolled during the first year the university was chartered, and graduations have continued uninterrupted for 154 years.