Five questions: Sale suggestions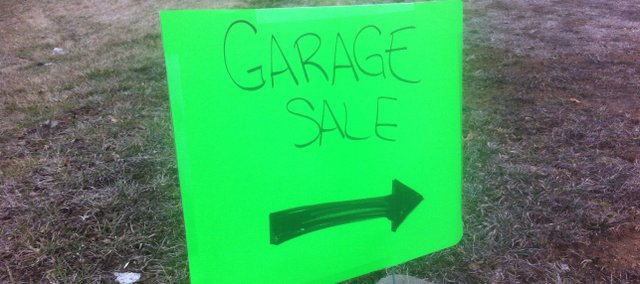 Cynthia Ewer, editor of organizedhome.com, offers tips in the article "Garage sale tips: Clear clutter with a yard sale." Here are some of those pointers.
Q: How do you decide what to sell at a yard sale?
A: Some yard-salers ask "Have I cooked with it, worn it, displayed it, used it or read it the last year?" Others have a rule: 10-20 percent of all books, videos, clothing, etc., must go. Dedicate a place to hold your growing collection of garage sale goodies: guest room, garage, etc.
Q: When is a good time for a sale?
A: Plan for early in the month. Right after payday, potential customers have extra cash in their pockets, so plan accordingly. Summer holiday weekends can see lighter traffic. Event weekends such as graduation also could be slow.
Q: How should items be displayed?
A: Position big-ticket items such as furniture or exercise equipment out near the front of the sales site where they will attract shoppers. Use signs to identify merchandise, such as full-size sheets and infants' clothing. A heavy-duty extension cord allows for testing of electronics.
Q: How many people should be working at a yard sale?
A: Plan for at least two staffers. One person acts as a background, shuffling money and keeping an active eye on everything. The other should be the most enthusiastic salesperson. Offer free coffee and have your children do a doughnut concession.
Q: What should be done with items that don't sell?
A: Take excess items to charities that would accept them. Also, be considerate of your neighbors and next week's yard sale enthusiasts. Remove all signs and return the site to normal.