Smithsonian exhibit opens Saturday at Lumberyard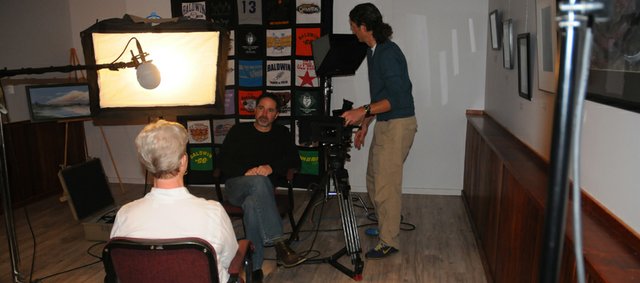 Earl Davault's elbow grease at the Baldwin Lumberyard and Irvin Greer's mechanical aptitude at Hey Machinery Co. built Baldwin City.
But the two men were far from alone.
Related exhibits
Only six of the Kansas towns that applied to host "The Way We Worked" succeeded in their bids. But the Kansas Humanities Council awarded grants to some other towns to create related exhibits in their own communities, including Eudora and Ottawa.
• "Eudora's African-American History," depicting how the work of African-Americans shaped the community, is on display at the Eudora Community Museum, 1428 Elm St. (the old Nottingham Elementary School) in Eudora. Hours are 10 a.m. to 5 p.m. Tuesday through Saturday and it will be on display indefinitely.
• "Workin' on the Railroads," depicting railroad workers including Mexican-American section gangs, opens Saturday at the Old Depot Museum, 135 W. Tecumseh St. in Ottawa. Hours are 10 a.m. to 4 p.m. Tuesday through Saturday and 1 p.m. to 4 p.m. Sunday, and the exhibit will be up through May 5.
A traveling Smithsonian Institution exhibit called "The Way We Worked" opens Saturday at Baldwin City's Lumberyard Arts Center, featuring photographs from the National Archives, audio and video clips and hands-on components. A companion exhibit specific to Baldwin includes historical photos of Davault, Greer and others at work — backbreaking and otherwise — in the city.
The exhibit, through its national and local components, aims to celebrate all workers, not just those named or captured on film, says Robbie Davis, project director for the Smithsonian's Museum on Main Street program, which is partnering with the Kansas Humanities Council to bring in "The Way We Worked."
"Everyone has a role to play in supporting society," Davis says. "Nobody's work is insignificant."
National Archive photos show scenes such as children working in a factory in 1909, switchboard operators in the 1940s, a pesticides inspector in the 1970s and a salmon boat skipper in the 1990s.
The concept of work resonates with communities everywhere, Davis says, making it a good topic for an exhibition that's displayed nationwide.
"It's interesting to get people thinking about how work has changed — or maybe how it hasn't changed," Davis says.
Americans hear from a young age that hard work will help them get ahead, Davis says, and while some people still believe that to be true, others don't. He says the exhibit also highlights people driven to work for different reasons, from getting ahead to helping others in society.
"What we try to reinforce is that everyone is doing their part," Davis says. "And there's a healthy respect for that that I've seen in every community that's hosting this exhibition."
In the process of collecting photos to display in the Baldwin City companion exhibit, Sandy Cardens noted a consistent theme.
"From everything I can tell, they worked really hard," says Cardens, gallery coordinator at the Lumberyard Arts Center and member of Baldwin City's Smithsonian exhibit committee.
Sometimes starting as soon as they were old enough to walk, "everybody worked," adds Paula Johnson, a Lumberyard Arts Center volunteer and director of the exhibit committee.
In Baldwin City and elsewhere, Johnson says, people seem to link their personal identity with what they do for a living, and it's often the first question asked in new conversations.
The Lumberyard Arts Center itself is like a "physical link" to the hard work of Baldwin City's past, making it a fitting place to house "The Way We Worked" exhibit, says Tracy Quillin, communications director for the Kansas Humanities Council and statewide coordinator for the exhibit.
The Baldwin Lumberyard, which operated until 2002, and the building's later transformation into the Lumberyard Arts Center are a big part of the city's local companion exhibit, which also focuses on Baker University, area agriculture, the railroad and the Santa Fe Trail.
It's important for visitors to see things that hit close to home alongside the National Archive's breathtaking photos taken from coast to coast, Quillin says.
"They're seeing their community within that story," she says. "They're seeing how it fits in."
The following speakers are planned in conjunction with the exhibit. All talks begin at 7 p.m. at the Lumberyard Arts Center.
March 26: Virgil Dean, a Kansas research historian, will speak about the history of labor during the past 150 years.
April 8: Ron Wilson, director of the Huck Boyd National Institute for Rural Development at Kansas State University, will speak about rural entrepreneurs and innovators who shaped Kansas.
April 23: Ann Birney, scholar and partner in Ride Into History, will speak about how history and ideas shape our lives and our sense of community.
April 29: Isaias McCaffery, history professor at Independence Community College, will speak on 19th century rural women at work.
The Kansas Humanities Council received more applications for "The Way We Worked" than any exhibit they've had since first partnering with the Smithsonian's Museum on Main Street program in 1999, Quillin says. Open only to communities with populations less than 20,000, the program aims to bring national-caliber displays to small towns that couldn't otherwise afford exhibit, space, security and staffing costs associated with a typical Smithsonian traveling exhibit. Exhibits also are scaled to fit in smaller spaces.
Out of 36 towns that applied to host "The Way We Worked," Baldwin was one of six chosen. The exhibit has been to Lyons, Hugoton, Goodland and Concordia and will go to Franklin when it leaves Baldwin.
"I think the topic of work really resonated with a lot of communities," Quillin says. "And given that we've been going through a jobs crisis and an economic crisis the last couple of years, we felt that this was really timely.