Lumberyard reborn as arts center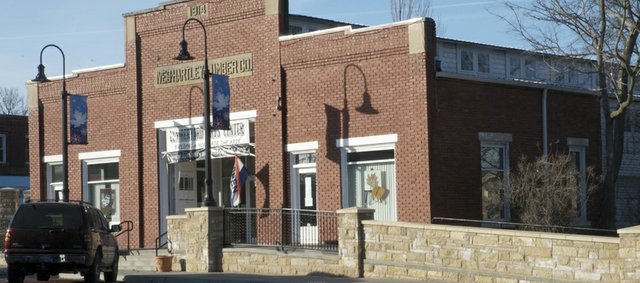 The Hartley family continued to operate lumberyards in Baldwin City until financial difficulties during the Great Depression forced the lumberyards to be merged as the Baldwin Lumber Company. The family operated out of its tin building on High Street as it had a scale for weighing coal, sand and an office. I, the new building with handsome brick facade, was used for storage and loading lumber.
In 1960, Tom Swan was hired to manage the lumberyard. Mr. Swan soon wanted to buy the business, but it was turning nice profits so the Hartley family didn't want to give it up. Mr. Swan finally purchased the business in 1974, and moved the office here.
Mr. Swan was a benevolent civic leader serving on the city council and known for his generosity and honesty. Many years later, Mike Swan, his son, became manager and was buying the lumberyard when it became clear that he could not compete with big-box stores in bigger cities, and vendors stopped making small deliveries to small businesses. He, sadly, made the last delivery in 2002, and the tin Baldwin Lumber Company was razed in 2006.
There I sat in the middle of main street, a desolate place of inactivity. But there were those calling for my transformation. I listened hard. It seemed that Baldwin City was a fast growing arts community, represented by the Baldwin Community Arts Council, which saw a great need for a place to promote, teach, exhibit and perform the arts. A stage was also needed for the active community theater, who performs outdoors or wherever they can find space. The BCAC wondered if an arts center could work in that odd space. Three voices were louder than any others.
One belonged to Sandy Cardens, a local artist, who had a vision of me as a novel arts center and community gathering place. Sandy stirred community interest. The other two voices belonged to Jim and Diane Niehoff, who wanted to preserve me, and had the business knowledge and construction skills to make it happen. In spring 2003, a meeting was held, support given, committees formed, grants written and funds obtained to begin building phase 1 of the project, which would transform my front half to hold a gallery, office, retail space, two classrooms, a kitchen, the alley courtyard and restrooms.
Fundraising for phase 2, a theater in the back half, is ongoing. It took seven years, nearly half a million dollars, and thousands of volunteer hours to fully complete phase 1, utilizing areas as they became available. My full story encompasses many little stories which will be told in a companion exhibit at the Smithsonian's "The Way We Worked Museum On Main Street." The way we work is by coming together as a community to save a historic landmark, create a cultural center, and I, who helped build Baldwin City for over a century, will now, in new ways, enrich it.
— Editor's note: The Signal is running this history of the Baldwin City community as a prelude to the March 23 opening of "The Way We Worked" traveling Smithsonian Institute exhibit. The show, which is co-sponsored by the Kansas Humanities Council, will run through May 5 at the Lumberyard Arts Center.