Baldwin High School baseball team looks to develop 'mental toughness'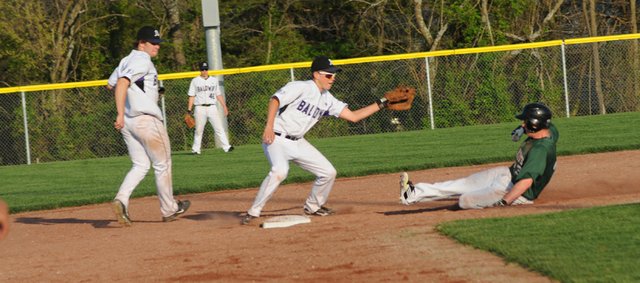 As a stiff north wind cooled Tuesday afternoon temperatures at the Bullpup Drive ball field complex from the low 40s to something much more uncomfortable, Baldwin High School baseball coach Brian Turk explained to his team practicing outside in the miserable weather would help build the team's mental toughness.
Those last two words were ones the team has heard a lot since the 2012 season ended last May with a regional loss to Spring Hill.
"We lost a number of games in late innings," Turk said. "Sometimes that's mental toughness more than physical ability. We spent a lot of time talking about that during the off season and putting in some drills to help build mental toughness."
It's a new season, but one thing will be much the same as last year. Of the 29 players on this year's team, only two are seniors. Five seniors graduated from last year's squad and had only seven juniors and seniors.
But Turk said the scarcity of upperclassmen last season had a benefit. There are several sophomores and juniors with experience, he said. It's an asset that is already evident during early practices.
asset that is already evident during early practices.
"They know what's expected of them or you only have to tell them once," Turk said. "The older guys are talking to the younger guys and educating them about what they need to be doing."
Team members have worked hard since the end of last season on weights, conditioning and drills to improve skills, Turk said. Additionally, many on the team have experienced success on Baldwin's American Legion team, which qualified for state the last two years.
Lost to graduation was last year's No. 1 pitcher, Hunter Burkhart. Turk said a number of pitchers would get innings in the coming season, including Tyler Cawley, one of the two returning seniors, Colton Stark, Brandon Mock, Hunter Young and Ben Growcock.
"We won't have as much experience, but we should have more depth this year," Turk said.
The hard-hitting Cawley patrolled centerfield last year and will hold down one of the outfield spots again this year.
"Everybody is buying in," Cawley said. "All the guys playing now have been through it. That should help us close out tight games."
It's an important year for him, too, Cawley said, because he hopes to play baseball next year at a four-year college.
Among the other returning players of note are middle infielders Chad Berg and Brock Randels, outfielder Stark and catcher Mock. Berg played mostly second base last year and Randels shortstop, but Turk said their middle infield assignments this season would depend greatly on who was pitching.
The goal for the still-young team is to finish with a .500 record, something a Bulldog team hasn't done since 2006, Turk said. Making that task difficult is the strength of the Frontier League. League favorite Ottawa is 4A's pre-season No. 1 ranked team and De Soto and Paola are ranked in the top-10.
Baldwin will open March 26 at home with a doubleheader against Burlingame, a team Turk said he knows nothing about.
The Bulldogs will then jump into league play March 28 with a doubleheader at De Soto.
"They're traditionally one of the top teams in the league," Turk said. "They are returning a lot of good players."