Baldwin City senior bus service has legs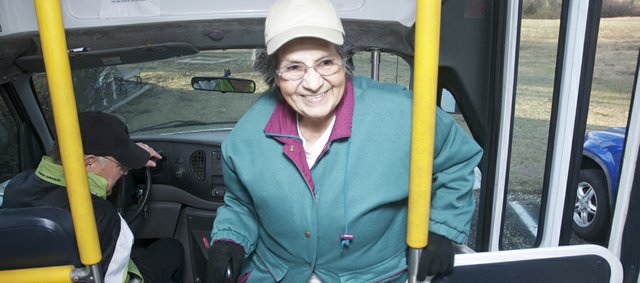 As he prepared Tuesday morning to start Baldwin City's Senior Wheels bus, Bill Clement acknowledged the vehicle was "kind of a clunker."
"But it gets us where we need to go," the retired optometrist said as the motor fired up.
It's obvious the bus with a Senior Wheels sign on its side has seen a lot of miles. Its blue and white paint is faded and the plastic around its rear fender wheels and bumper has a few cracks. But clunker is not how Lorettamay Davis defined it, after climbing its steps to sit in a seat behind Clement.
"It's a blessing," she said. "I don't know how I would make it without this bus. I'd have to ask everybody I know, I guess. I know I wouldn't get to Lawrence two times a week."
Davis makes the two weekly trips on the bus to receive arthritis hydrotherapy treatments. She will soon need another weekly trip as she had started a therapy routine at Neu Physical Therapy Center in Baldwin City.
The trips Davis took were among the 36 Baldwin City residents 60 years of age or older made on the bus last month for medical services, said Tina Roberts, resource development manager with Douglas County Senior Services. The bus also provides rides for such things as shopping and hair appointments.
"We're really happy with it," Roberts said. "It's providing a long-overlooked need in the community."
The service started in Baldwin City in June 2012 after Bill Neuenswander led an effort to get it introduced. With the understanding Douglas County Senior Services would make the bus available and pay for its insurance, maintenance and fuel if he could find volunteers to drive the bus, the former Baldwin school superintendent enlisted his former school bus drivers and friends to join in the effort.
To increase the number of days the bus could operate, Neuenswander also approached local businesses and the city for donations — the city provided $1,500 — and organized a biscuit and gravy breakfast in June that took in another $2,500.
In addition, there's a suggested donation of $3 per ride but rides are provided regardless of ability to pay. Nonetheless, Neuenswander said riders contribute about $70 every two weeks to the service.
The service started as a three-day-a-week service. It is now operates on as-needed basis with the bus usually on the road four days a week, Neuenswander said. It has also started providing rides to Ottawa, the only Senior Wheels service in the county to do so, because many seniors in the community have doctors or access other health services in that city, Neuenswander said.
"It's a start," he said. "We could operate on a grander scale, but it's a start."
The five volunteer drivers and Linda Russell, who gives her time to schedule ride appointments, are key to the success of the service, Neuenswander and Roberts said.
"They not only volunteer their time driving, but they have to get training, too," she said. "They get training in how to transport passengers in wheel chairs and other areas.
"They also clean the bus and help with some of the light maintenance."
Clement said he and Neuenswander worked together on other volunteer projects with Baldwin First United Methodist Church, so it wasn't hard for his friend to get him to volunteer.
"I just feel like it's a service a lot of people need," he said. "It's just a good service for the community."
Neuenswander and Roberts agreed the bus needed to be replaced, especially if there was more demand. But they also agree it is serving the service's current purpose.
"It's a humble beginning," Neuenswander said. "Every week it seems like I get two or three phone calls from people wondering if they can get a ride somewhere. Each month, it seems like we get an additional person rider.
"We're pleased we have been able to provide a service people need."