Lumberyards played big part in Baldwin City growth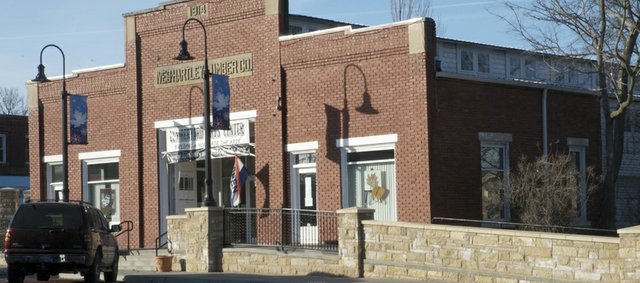 This year, I will celebrate 119 years as a lumberyard building in my present location, now transformed into the Lumberyard Arts Center in Baldwin City. I have been chosen to be a Kansas site of the Smithsonian's Museum On Main Street, telling local stories of "The Way We Worked" to build our Kansas communities. I think it is very fitting that I am hosting the exhibit in Baldwin City. Who could better tell Baldwin's story than I, the very place that exemplified work, provided the materials, and heard the stories from the beginning? Located on main street in the center of our city, people gathered here for over a century to purchase work supplies, share personal stories, news of the time, problems, plus a little gossip. I was privy to many conversations about our history, and listened to them all. Here, then, is the story as I've come to hear it through the years, about the way we worked to give the Baldwin City area the richness we enjoy today. The catalysts that made it possible, the Santa Fe Trail, agriculture, Baker University, and the railroad, all influenced our growth and development.
My story begins with the coming of the railroad. My first ancestor was a lumberyard built by S.A. Barnes before 1880 next to the tracks in Media. We know very little about him, but his ledgers show how much this local source of construction supplies facilitated growth in the area towns of Media, Palmyra, Prairie City, Vinland and Baldwin City. Barnes hired Charles P. Ives to manage the lumberyard in 1880, which he bought three years later and named Ives Lumberyard. He believed that competition drove growth, so between 1893-1908, he built another Ives Lumberyard in Baldwin City where I stand, and two Baldwin Lumber companies, one in Media and one in Baldwin City a block west of me on High Street. Having four lumberyards with two different names, competing in two locations in a 2-mile radius, who did business with each other, and were owned by the same man, was an unabashed monopoly and economic anomaly.
In 1907, Ives's son-in-law and Baker graduate, Forrest Hartley, bought into the Baldwin Lumber Company, and the name evolved to the Ives-Hartley Lumber Company. Ives and Hartley worked well together and served the public well at both locations by keeping prices low and welcoming small purchases. After Ives' death in 1913, Hartley carried out a planned expansion of the Ives-Hartley Lumber Co. in the center of town as a memorial to him. This was completed in 1914, and I emerged a handsome brick-faced building with huge white wooden doors opening up to a long, trussed dirt loading floor leading to more big doors opening onto the alley. Lofts and wooden storage bins with stacked lumber and supplies edged the dirt path and there were two enclosed smaller rooms on each side of the loading floor which once held a doctor's office and a leather shoe repair shop. The lumber companies grew to be recognized as one of the biggest lumber sellers in Kansas, and Hartley successfully ran the business until his death in 1930.
— Editor's note: The Signal is running this history of the Baldwin City community as a prelude to the March 23 opening of "The Way We Worked" traveling Smithsonian Institute exhibit. The show, which is co-sponsored by the Kansas Humanities Council, will run through May 5 at the Lumberyard Arts Center.