Lack of filings for Baldwin school board position creates interesting possibilities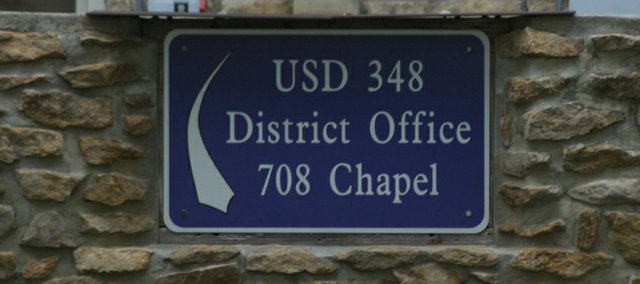 The lack of candidates for the District 3, Position 6 Baldwin USD school board position sets up "interesting" possibilities, according to Douglas County Clerk Jamie Shew.

The filing deadline came and went in January with no one filing to run for the position that Ande Parks currently holds on the board, after Parks chose not to seek reelection. That probably means the qualified person getting the most write-in votes in the April 2 election will fill the position for the next four years.
That is, of course, if that person want the job, a detail the county clerk will confirm with a post-election phone call.
But Shew said it's not fully established in state statute how to determine a qualified write-in winner.
A number of requirements are defined: A successful write-in candidate must be a U.S. citizen, 18 years of age or older and a resident of that part of the school district that the District 3, Position 6 seat represents (the section of USD 348 south of U.S. Highway 56 and west Sixth Street).
Also, a successful candidate cannot be a teacher or employee in the school district. The Kansas Supreme Court ruled that was a conflict of interest after a teacher in the Gardner Edgerton school district was elected to that district's school board in the 1990s.
What's vague is whether a successful write-in candidate has to be a qualified elector or a registered voter, Shew said. That would be required of someone filing to run for the seat as a candidate and someone taking office as a board member, he said.
But Shew said the question would be whether a write-in winner would be defined as a candidate. It was a question he said a phone call to the Kansas Secretary of State's office didn't entirely clarify.
"The laws assumes there would be contested races," he said. "We'd probably give the results to the school board and leave it to their legal counsel to decide."
Another complication would be if two or more candidates tied for the most votes. Shew said his office was required to pick a winner in such contests through a "game of chance," such as flipping a coin or drawing straws. Those games of chance would be required even if one of those with the most votes didn't want the position.
If the winner of the draw declined, a write-in candidate who tied for the most votes but lost the game of chance would not be declared the winner. Instead, the school board would fill the position as it does when there is a vacant seat on the board, Shew said.
"I would think they would give it to that person (tied for the most votes)," he said. "But perhaps not.
"Hopefully, we can avoid those situations but anything is possible, especially in a write-in election where several candidates could end up with 10 votes."
Shew also has a heads-up for candidates thinking about actively campaigning as a write-in: Such candidates are required to file post-election reports with his office if they spend money on their campaigns.
"We had a couple of calls from down there asking about that, so there must be some interest in starting a write-in campaign for that position," he said.
As after every election, his office will review all ballots for write-in candidates before certifying election results, Shew said.
"We had three boards working three days on that after the November election," he said. "We list every name that's a actual person and not Mickey Mouse or Bugs Bunny."
Voters don't have to spell the name of a write-in candidate correctly as long as determined voters' intent can be determined, Shew said.
Shew said his office also has had a number of calls asking about the term length in the election for the board's at-large seat. Sheryl Gill is running unopposed for the position she was appointed to in June 2012 after Tony Wedel resigned to take a new job in southwest Kansas. Shew said the election was to fill the remaining two years of the at-large position's unexpired term.
Unregistered voters have until Tuesday to register. Faxed or online forms will be accepted until midnight, Shew said. Forms are available at Baldwin City Hall, the Baldwin City Public Library and Post Office, he said.
Advance voting will start Wednesday. Shew said his office would again have an advance voting site in Baldwin City the Saturday before the April 2 election.