Architect chosen for library expansion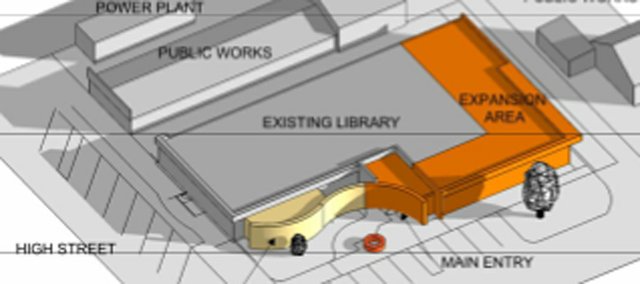 Tthe Baldwin City Public Library Board of District has chosen Zimmerschied Architecture of Lawrence to design the $500,000 library expansion,
The decision, approved by the board Feb. 28, was one of two steps in the past two weeks that moved the long-proposed expansion closer to reality. On Monday, the Baldwin City Council approved a bond sale that includes $510,000 in financing for the project. The library board has committed $120,000 for the expansion.
Zimmerschied also was the architect of Baker University's Collins Library expansion, which was completed in 2002.
In a report to the library board, Zimmerschied set the project's overall cost at $620,000 and construction cost at $512,000. Architectural and engineering fees are to be charged at 9.75 percent of construction cost, or an estimated $50,000.
A preliminary plan shared with the board in the report included those items library staff and advocates wanted in the expansion and satisfied the city council's desire that the project include a meeting room suitable for council meetings. It shows the L-shaped expansion to the west and north of current building, which adds 3,220 square feet to the library's current 6,380 square.
That preliminary design would:
• Enlarge the current community meeting room and provide a conference room for executive sessions
• Add a second community room
• Add a "warming" kitchen
• Provide storage space and expand the children's area, which would include a craft area
• Enhance and enlarge the entrance foyer
Zimmerschied is to share conceptual plans with the board March 14, a project budget May 7 and completed drawings May 31.